Simon O'Neill, Father and Son (EMI)
Rating: ****
Verdict: "New Zealand Heldentenor evokes the spirit of Bayreuth on home turf."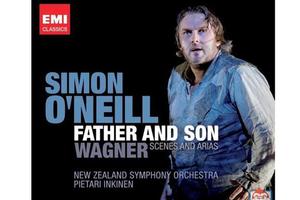 Simon O'Neill has found a neat concept for his new EMI album, Father and Son, focusing on the music of Lohengrin, son of Parzival, Siegfried, son of Siegmund and, finally, Parsifal, whose very lack of a father is a key element in his character.
So it's all in the family, then, reminding me that Wagner's sprawling oeuvre could be seen as the missing link between Ancient Greek drama and the small-screen sagas of Dallas and Dynasty in the 1980s.
O'Neill is in splendid form, a true Wagnerian heldentenor, heroic in tone and stamina. The first offering, In Fernem Land, is a thrilling taste of what is in store and O'Neill's voice positively glistens with the youth and vigour that these great roles need.
At the other end of the album, two extracts from Parsifal remind one of O'Neill's transcendent appearance in the title role of the opera in Wellington four years ago. Amfortas! Die Wunde! has the tenor drawing on a seemingly inexhaustible range of emotions as his character turns from the seductive ploys of Kundry.
It is here too that the New Zealand Symphony Orchestra under Pietari Inkinen is at its most splendid, from heady rushes of Wagnerian splendour to moments in which the orchestral texture is shot through with all manner of telling solos. English soprano Susan Bullock makes the most of two brief lines as the temptress Kundry, as does Sir John Tomlinson in his earlier turn as the power-hungry Hagen.
However fine the performances may be - and O'Neill is quite something, despite losing the occasional note in moments of extreme passion - the cutting and slicing of Wagner's scores leaves a lot to be desired. The brutal chopping up of Act One of Die Walkure is the most disruptive, especially when we are dashed from vernal enchantment in B flat major to macho sword antics in B minor.
This will be a popular disc and deservedly so - O'Neill has charisma and the NZSO's orchestral items are spectacular. One misfact annoys. This album is not the result of three concerts held in the Michael Fowler Centre last August as the booklet states but, as various photographs suggest, the product of recording sessions in the same venue.
William Dart