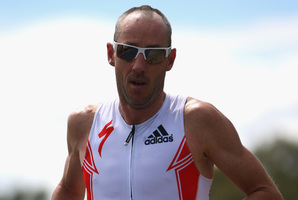 Kona, a village on the island of Hawai'i, will again become centre of the Ironman universe next weekend.
After winning Ironman New Zealand in March - in record time at his first attempt - Bevan Docherty wants to conquer the sport's pinnacle event.
The former world triathlon champion and double Olympic medallist knows how to compete under pressure. The Beijing Olympics were an example. Docherty's fervour as he tore into the run suggested he was always going to medal.
However, even a decorated athlete like the 36-year-old knows he'll be challenged by the heat, wind and mirage-like horizons presented by the volcanic outpost in the Pacific.
With regular place-getter Cameron Brown absent, Docherty is the great Kiwi hope in an event no New Zealand man has won since its inception in 1978. Women are a different story. Erin Baker triumphed in 1987 and 1990.
"I think I've got what it takes," Docherty says. "I need a bit of luck and wouldn't mind a few more years under the belt. In hindsight, I wish I'd made the move a few years ago, but I've got time.
I don't like pain, but it's something I'm okay at handling."
Docherty failed to finish his most recent race, a 70.3 mile event in Las Vegas, but is not fazed after a "proper build-up" from his base in Santa Cruz, California. He has an open mind on the possible geographical and environmental treachery that awaits when he arrives on Tuesday.
"I haven't done a lot of research. I haven't spoken to too many people. I'm just doing the training I think needs to be done. I'm fit, happy with my form and excited about competing. I've always known deep down I could be good, if not great, at this distance. I had a spot of form at Taupo but there were a few mistakes and Kona will have a tougher field."
The two previous winners - Pete Jacobs and Craig Alexander - are returning, as are last year's place-getters as well as top prospect Sebastian Kienle.
One area Docherty is targetting for improvement is nutrition.
"At Taupo I had too many sugary drinks and gels throughout the day. My body started rejecting them. This time I'll eat more energy bars as a solid substitute."
New Zealand triathlon legend Rick Wells had one go at Kona in 1988.
The former short and long-distance world champion didn't finish the run.
"The start was known as 'Dig Me Beach' because a bunch of incredibly fit-looking people would strut around talking about how great they're going to do in the race. The best advice was to keep your mouth shut and pay your dues on the course. I wasn't tough enough mentally."
Wells was in the first group out of the water but says he made the mistake of installing the then new-fangled aerobars on his bike.
"The position I ended up sitting in wreaked havoc with my lower back. I cramped and couldn't stretch out - it became a real mind game when you throw in heat and wind, too. There are also parts of the course where you can see the horizon shimmering in the distance.
"I'm not going to rule out the prospect of Bevan winning. He's tough enough, as he proved at Taupo, but Kona is a different beast. I'd be surprised if he cracks the top three in his first attempt. I'd be the first to congratulate him if he does, but even greats like [six-time winner] Mark Allen paid their dues first."
Scott Molina, husband of Erin Baker, won in 1988, the year Wells pulled out. He now works as a coach - mainly with athletes in the 40-75 bracket - and last raced at Kona in 2010 aged 50. He's promised his wife he won't return until he's 60.
"One of the toughest aspects for Bevan to adjust to is the lack of drafting [which is illegal on the bike in Ironman but legal in Olympic distance triathlons]. That makes it difficult to leapfrog a group of cyclists at any point. You effectively need to be at the top end on the bike to stay with the lead group. A lot of guys struggle to respond.
"People talk about mental strength, but I reckon the physical side is more important. It's how much training you have done to get to that point which is key; it gives you the confidence to perform.
"I'm not surprised by what Bevan did in Taupo; he has put in a lot of work over the years, but it's asking a lot to win Kona on your first attempt. All the best guys show up and you're racing in extreme conditions."