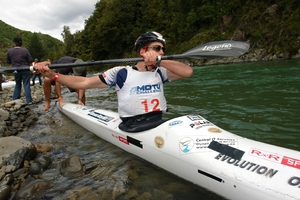 An all-star cast is preparing to celebrate the 20th anniversary of the Horizon Energy Motu Challenge next weekend in the Bay of Plenty.
Over the past two decades the Motu Challenge has forged a reputation as one of the premier multisport events in the North Island and attracted many of New Zealand's most respected athletes.
Back in 1994, Gisborne athlete Scott Pitkethley beat Neil Jones for individual honours in the Motu. A year later, while Jones conquered the men's racing, Tulip McRoy was the first woman home, winning the veteran's section just ahead of Deanne White, first open woman.
Since then, big names winning in Opotiki have included Steve Gurney, Neil Gellatly, Jill Westenra, George Christison and Gordon Walker. More recently, there's been Elina Ussher, Richard Ussher, Rachel Cashin and Sam Clark. The Usshers alone have won nine individual titles.
In last year's Motu Challenge the weather was appalling, with the athletes battling torrential rain and gale-force winds. The road bike and paddle down the Waioeka River were especially bracing, and spectacular too, with streams transformed into torrents. Clark toughed out the storm to win the men's race, while Cashin backed up her 2006 Motu title, narrowly edging out Ailsa Rollinson.
Cashin won't be at the start line this year as she's busy with work and a house-building project.
But Richard and Elina Ussher plan to return.
"The Motu Challenge is a great event with a huge reputation for competitive racing," said Richard, who has won the Coast to Coast on five occasions.
"The area is spectacular and the local community always makes us feel welcome."
Clark will also be back, saying: "Absolutely - it's my home turf.
"If Richard is there it's always going to be his race to lose, but as always, I'll give it my best shot. I'll just have to try and make the most of knowing the terrain.
"There's nothing better than training 'on-course' to prepare for a race. I just try to put in long runs, long rides and long paddles." This year Clark is working overtime as a mechanical technician which has been an adjustment.
"I'm out training until about 9 o'clock most nights," said Clark, who manages to put in an average of 25 hours a week training.
"It's always difficult to compete against full-time athletes, but hopefully I will battle with [Richard] up the front and maybe put some pressure on him."
He makes a point of never missing local races.
"Especially the Motu which has the most beautiful mountain bike track in New Zealand," he said.
Clark goes on to sing the praises of the Motu Challenge, saying there is a real sense of journey over the course.
"It's completely achievable for anyone who puts their mind to it and dedicates time to training. It's an awesome course that gives you a huge sense of accomplishment at the end."
Like most of the returning athletes, Clark is also hoping that the weather will improve from last year's weather bomb which saw the river rise one metre from the time he entered the water until the time he left it.
"The old Motu River can be boisterous and temperamental - you just have to be prepared for all eventualities."
The Motu Challenge comprises four stages: 65km mountain bike ride, 17km run, 52km road cycle, then a 27km kayak, 8km road cycle and 3km run to finish. Competing is an excellent way to experience the beautiful scenery, native bush and rugged terrain the Opotiki area has to offer.
Fifteen hundred dollars will reward first place in both the open men's and women's categories of the Motu Challenge. There will be thousands of dollars in age group and teams' divisions, and tens of thousands in spot and merit prizes.
The multisport race is partnered by the Motu 160 Cycle Challenge, introduced in 2009 for keen bikers.
Like the multisporters, bikers head up the historic Old Coach Road to Motu. But they then change straight over to road bikes, and return to Opotiki via Traffords Hill and the Waioeka Gorge Scenic Reserve road.
The Old Coach Road has always been a highlight, and fittingly, 2013 marks 100 years since the first horse and cart trip from Motu to Opotiki.
Winner of the Motu 160 for the past two years, Whakatane's Olympian mountain biker Karen Hanlen is coming back to defend her title next weekend.
Hanlen finished 22nd at the UCI World Mountain Bike Championship in South Africa last month and will have low-key expectations on her performance.
"I'm just aiming to get to the finish line as it will be my first event after the world champs," said Hanlen.
It is hard to see where she finds the time to train. Hanlen is a part-time physiotherapist, mother of two young children and a world-class mountain bike racer.
"It's difficult to compete against others who are full-time athletes, but I'm fortunate to have a brilliant support crew to help me," said Hanlen, "I also have coach Evan McRae by my side and support from High Performance Sport NZ."
Hanlen trains every day and three times a week she hits the road with the local cycling club, which includes speed races.
"You just have to get out and do long rides and put in the miles," she said.
When asked about specific training advice for the Motu 160, Hanlen emphasised the need to put the training hours in, and especially get familiar with riding on metal downhill roads.
"Oh, and make no excuses to skip a session - especially in the rain. Chances are, it will probably rain on race-day."
With regard to an event where weekend warriors will spend seven hours in the saddle, Hanlen offers a little advice on nutrition, too.
"As far as fuel goes, make sure you practise before the event with what works for you. A popular snack is white bread with jam or honey, but that might not work for everyone. It's really important to keep refuelling with things like high-carb bars, gels, lollies and electrolytes. Make sure you take on lots of fluid too."
The Motu Challenge and Motu 160 are as much about the elites as they are the participants.
There is no better way to celebrate its 20th anniversary than taking part in the event that has been dubbed the North Island equivalent to the Coast to Coast.