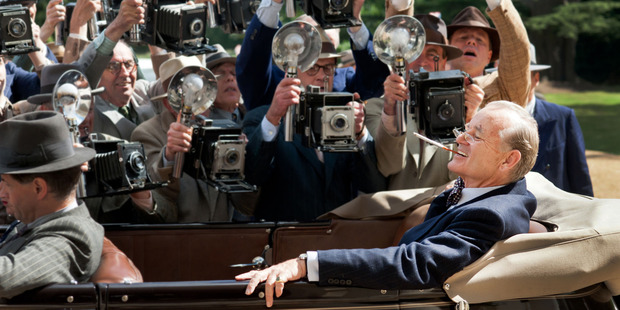 Bill Murray is the king of comedy so it's about time he played the President of the United States. In this instance, Franklin D Roosevelt, who guided America through the Great Depression, then World War II.
The action is set at Roosevelt's family home, shared with his mother; his wife Eleanor (Olivia Williams) residing elsewhere. As a result, he was able to engage in several illicit affairs; most notably with Daisy Suckley (Laura Linney), his sixth cousin. The film tells the story through her eyes, as gleaned from private journals and diaries discovered on her death in 1991. To add intrigue and depth, screenwriter Richard Nelson and director Roger Michell frame much of the action around a visit to the estate in 1939 by King George VI (Samuel West), and Queen Elizabeth (Olivia Colman), with the British sovereign intent on convincing America to join Britain against Germany. It provides amusing awkward moments, highlighting the difficulties the reluctant King was confronting and revealing the differences between American and British manners and the social and romantic divide between Roosevelt and Daisy.
The much-loved President is wonderfully hewn by Murray. He captures the charm and intelligence of Roosevelt, using his comedic deftness to make him likeable yet fallible.
Linney plays Daisy as unsure of herself, let alone her position, flitting with insecure gestures like a fantail on a branch.
Meanwhile, Michell seduces us with languorous shots of meadows and hills, making us tacit accomplices to Roosevelt's wooing of Daisy. It's a good tactic, conveying both calmness then chaos before a kind of natural order takes form.
Stars: 4/5
Cast: Bill Murray, Laura Linney
Director: Roger Michell
Running time: 94min
Rating: M
Hyde Park on Hudson is out now.