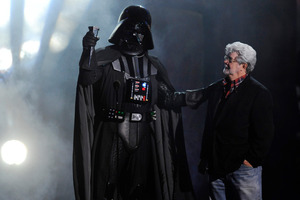 After 35 years, six films and several hundred million plastic action figures, The Force appears still to be strong for Star Wars.
Its creator, George Lucas, has sold his business empire to Disney in a deal worth just under $5 billion - and fans can look forward to "Episode VII" some time in 2015.
Numbers eight and nine will also be pushed into development, with a view to cinema releases at two to three-year intervals.
Lucas, 68, said it was time for him to retire from the day-to-day running of his business, although he would serve as creative consultant on the next film. As sole owner of Lucasfilm, he will receive US$4.05 billion ($4.93 billion) in cash and shares.
"I've always believed Star Wars could live beyond me, and I thought it was important to set up the transition during my lifetime," Lucas said.
As part of the deal, one of Lucas' longstanding associates, Kathleen Kennedy, will remain president of Lucasfilm and will be executive producer of the new movie, with responsibility for the all-important business of hiring screenwriters and a director.
It remains unclear where the next instalment in the blockbuster series will pick up.
Technically, it should follow 1983's Return of the Jedi, which was the third of the movies to be released but is sixth in Lucas' chronological series.
However the death of Darth Vader will leave the franchise without its major villain.
Either way, Disney is counting on the enduring loyalty of fans to recoup its vast investment. They continue to purchase merchandise in huge quantities and have ignored lacklustre reviews to turn all three of the modern Star Wars "prequels" into hits.
The company's chief executive, Bob Iger, said: "The last Star Wars movie release was 2005's Revenge of the Sith, and we believe there's substantial pent-up demand.
"This transaction combines a world-class portfolio of content including Star Wars, one of the greatest family entertainment franchises of all time, with Disney's unique and unparalleled creativity."
The sale includes Lucasfilm's production business, its special effects and audio arms, and consumer products unit.
- Independent