Russell Brand talks a lot, and is set to do a whole lot more in front of a New Zealand audience. Lydia Jenkin finds out more...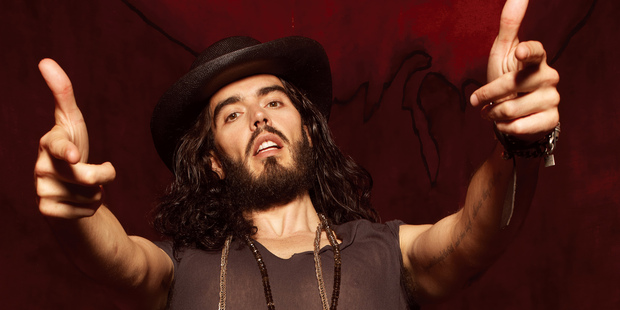 Russell Brand is a man of many reputations. He's the legendary lothario and now ex-husband of Katy Perry; the recovered drug addict whose experiences have inspired best-selling memoirs and made him a media talking head on the subject; the controversial multi-media star turned Hollywood fixture ... and global star.
As everything from his London Olympics closing ceremony appearance to his new American TV show Brand X shows, Brand is a man much in demand.
"I hope I'm in demand for all the right reasons, and not for outstanding warrants" he says in that wayward English larrikin manner, down the phone from Los Angeles.
And despite being an hour late for his interview (he was probably off helping a homeless person, or perhaps meditating, both of which are current favourite pastimes), he's so charming, even in his obvious flattery, it's easy to forgive him.
"New Zealand always looks beautiful in the movies, and when I meet people from there, I kinda like 'em. They remind me of English people, they're kind of wry".
Brand is clearly practised in the art of "butter wouldn't melt".
"I'm sure the people of New Zealand are tired of hearing this, but I love Flight of the Conchords, and I just think it'll be pretty cool, I feel it. There seems to be something clean and pure about it somehow."
He does recognise that we have our own variety of problems (a discussion about colonisation and a responsibility to indigenous people ensues), but until he's "walked among us", he's keen to stick to the good points.
"I've heard you've got really cool caves and stuff to swim in, and underground glow worms - it sounds kind of magical."
His enthusiasm and frequently flowery language might give the impression of someone on drugs, and he did have a reputation for doing bizarre things while under the influence in his early days as a stand-up - like setting the Koran on fire, or cutting up dead animals.
But having been clean since 2002 (and now a vegetarian), these days he's more concerned with giving the audience a good laugh, and something to think about - though there will still be an element of crazy. His show is dubbed I Am A Walrus after all.
"I Am The Walrus is obviously a Beatles song [which he performed at the Olympics closing ceremony], and it implies a sort of psychedelic messiah beyond language - a counter-cultural figure who can be an icon for change. But my mate Nick, who drives me in England, thought the song was called I Am A Walrus, and even though that's only a subtle difference, I Am The Walrus is a powerful statement, but I Am A Walrus just means, well, that you're a walrus, and I kind of like that."
He might even perform the song again during the show - Brand does like playing the rock star, as witnessed in Rock of Ages and Get Him To The Greek.
But mostly the show will be an uncensored monologue from Brand's rapidly turning brain, which could touch on anything from religion, to sex, to luggage.
"Mostly I just want to create an atmosphere of mayhem, chaos and excitement.
"I'm talking about all these stories of what it's like to live in the superficially exciting world of fame and celebrity, and how it's still embarrassing, and it's still chaotic. What it's like to spend time with Charlie Sheen and Tom Cruise, and to perform at the Olympics in front of a billion people, but to still obviously just be a normal bloke, and what that experience is actually like."
Though it's hard to think of Brand as a "normal bloke", he is very aware of the unusual nature of his life - not just the amount of scrutiny he faces, but the fact he's embraced it, with tell-all biographies, documentaries and candid interviews. And he loves to find humour in it.
"We're in a world obsessed with media and celebrity, and for me the analysis of those things is inherently humorous because it's duplicitous. And anywhere there's duplicity and dishonesty, it's easy to find humour, because it's preposterous and absurd.
"The way the media speaks and thinks, and the various agendas, while sometimes it can be quite mendacious, it's also funny. To maintain the inflation of this great hydrogen field of illusion, there's so much bluster and nonsense - and I enjoy pricking it."
Brand is known for his ability to draw all sorts of information and quotations into his performances, and somehow make it seem off the cuff - as if simply plucking the relevant suggestions his brain may proffer as he talks.
"I just try to remain open, and try to see what things resonate. To see what literary references are appropriate - if you're talking about revolution, what political figures become relevant, or if you're talking about medicine, what poems are pertinent? It's just nice to know. You need to be able to communicate, I'm a communicator aren't I? So I need to have cultural artefacts and references that give me a shorthand."
But it's not magic - he reads a lot. Though he doesn't really see it as work or research.
"That's why stand-up is good for me, because it's a natural extension of what I'd be doing anyway. When I was a kid I thought I would make movies for nothing, just for the glamour and the excitement, but making movies really is work. Whereas stand-up for me, it's a privilege to be able to talk to people, and to hear people laugh and make them happy."
It might come naturally, but it is still something of a performance - he's playing a pronounced version of himself when he's on stage. "You highlight the parts of yourself that are relevant - you don't bring up the side of yourself that's a little bit morose and lost. That's not appropriate. It's just the same as if you're going round to somebody's grandmother's house for a cup of tea, you behave differently than if you're at some sort of bacchanalian orgy. One must recognise context!"
One thing that Brand does emphasise however, is a need for authenticity, and as a stand-up who delights in audience participation, and has all but given up on privacy, you can expect him to share all his life experience (he may not look it, but he is 37), good and bad.
"I will be truthful and honest, I'm a man with nothing left to lose. All I want to do is express myself, and I think I've been constrained and contained for a long time, and this is an opportunity to essentially have a mental breakdown on stage," he finishes with a gleeful laugh. "Just come!"
Brand consistency, on film
St Trinians (2007)
Brand played Flash, a swaggering, wayward, British teacher at St Trinians School for Girls, who helps his 16-year-old charges come up with illegal ways to raise money in order to stop the school's foreclosure.
Forgetting Sarah Marshall (2008)
Brand played Aldous Snow, a swaggering, wayward, eccentric, British rock star, front man of Infant Sorrow, who also has a way with the ladies.
Bedtime Stories (2008)
Brand played a wayward, eccentric, often childlike colleague to Adam Sandler's character, who makes bedtime stories become real.
Get Him To The Greek (2010)
Brand reprised his role as rock star Aldous Snow in this spin off film, and becomes the central character - still charismatic, still a playboy, but now even more wayward, washed-up, and self-involved.
Despicable Me (2010)
Brand took the voice role in this animated film as the ageing, slightly nutty Dr Nefario, a scientist who is helping evil Gru in his plan to take over the world.
The Tempest (2010)
In this Shakespeare adaptation, Brand played Trinculo, an eccentric, wayward, wandering jester, with a taste for performing. Helen Mirren was in the lead.
Hop (2011)
Brand voiced EB, the wayward son of the Easter Bunny who doesn't want to take up his position delivering chocolate to the world, and instead heads to Hollywood to become a rock star drummer.
Arthur (2011)
Brand played Arthur, a wealthy, wayward, drunken playboy, who stands to lose his inheritance if he doesn't marry the woman his family have matched him with. Mirren took a supporting role in this remake of the Dudley Moore movie.
Rock of Ages (2012)
Brand played Lonny, the eccentric, wayward, British rocker who is co-owner of grungy venue, The Bourbon Room.
Who: Comedian and actor Russell Brand
Where: Vector Arena, Auckland
When: Wednesday November 28
- TimeOut