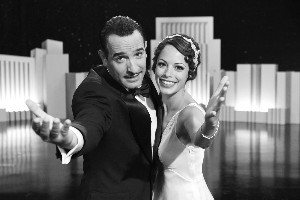 How this silent, black and white French confection has gone from quirky ode to old Hollywood to Oscar underdog isn't hard to figure.
No one sniffs at a heartfelt valentine. Though this one comes addressed to the girl Hollywood used to be: American cinema in the era when the talkies took over from silent movies in the late 1920s.
The advent of dialogue left many of Hollywood's early stars out in the cold, their gymnastic eyebrow acting no longer needed. That's the case for The Artist's title character, George Valentin (Dujardin).
The film is set in and celebrates that period and remains a silent picture but for a couple of moments. It has a rich instrumental musical score, which barely lets up for the film's 100 mostly melodramatic minutes, but it does briefly break out into song - Pennies from Heaven, which wasn't written until 1936.
Otherwise, it's a faithful period reproduction right down to its boxy 1:33 screen ratio, though it was shot on colour and scaled back to monochrome.
The rich details are the work of French director Hazanavicius, which follows his acquired-taste Gallic OSS 117 spy flick parodies.
Given those previous films, which also starred Dujardin as his 007-ish leading man, this might have turned out a spoof with a very narrow, film buff appeal - Dead Men Don't Wear Plaid-meets-A Star is Born.
And perhaps the Oscar attention and critical acclaim is partly down to the sense of self-congratulation that comes with recognising its many knowing nods to cinema history, whether you're chuckling at the recycling of Greta Garbo's famous line or wondering who the elegantly moustachioed Dujardin most resembles - Douglas Fairbanks, Basil Rathbone or Errol Flynn?
But being a reproduction doesn't stop The Artist from being a real charmer for all ages (given its vintage leanings, maybe its PG rating should be "GGPG" - great-grandparental guidance advised, as they can best explain to kids why everything's gone quiet).
Hazanavicius makes modest use of the old silent movie intertitles, keeping the story-telling emphasis on the performances from a cast which includes Americans John Goodman as a cigar-chomping studio boss (whose main line, "NO!", is easily lip-read), and Penelope Ann Miller as Valentin's unhappy wife ... oh and Uggie as Jack, the pooch who is his constant co-star.
Valentin is a crown prince of of silent Hollywood. His movies - some which resemble Tintin stories - always pack 'em in.
But his starry life is soon upended, firstly by flapper Peppy Miller (Bejo, the willowy, luminous Argentinian-French actress who is also Madame Hazanavicius).
She starts out as an extra in a Valentin film - which has a delightful sequence showing the pair falling in love in front of the camera - then shoots to stardom in the talkies.
Meanwhile too proud to adapt to sound, Valentin's Hollywood stocks fall, as does his fortune in the 1929 stockmarket crash.
At which point its initial comedy high spirits give over to fall-from-grace melodrama as Valentin heads for rock bottom. But The Artist never loses its infectious exuberance or sly wit.
Its two leads are a lesson in old-fashioned screen chemistry and somehow that wonderdog never outstays his welcome, even when this adds "Lassie movie" to the genres The Artist wants to celebrate.
For all its French-ness and giddy nostalgia, it's not really an Oscar season outsider.
It is, after all, a movie about the magic of movies, just as Martin Scorsese's recent much-nominated Hugo is, with its tribute to French film pioneer Georges Melies.
And The Artist is, just like last year's Oscar champ The King's Speech, about the advent of sound - radio - to a famous man who preferred to be seen but not heard.
Stars: 4/5
Cast: Jean Dujardin, Berenice Bejo, Penelope Ann Miller
Director: Michel Hazanavicius
Rating: PG
Running time: 100 mins
Verdict: The best Franco-retro silent flick in some time
-TimeOut