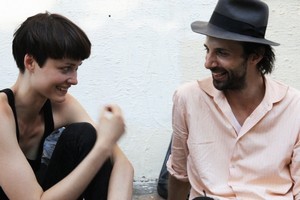 Anyone who was at the world premiere screening of this film on the opening night of last month's International Film Festival is either still grinning at the memory or has passed away in the interim.
The film already had us on a sort of cinematic cloud nine before Habicht took the stage in costume (electric pink stovepipe pants) and in character (which is to say, just as he is) and, peering into the darkness to make sure we were still there, made a phone call to his co-star.
It was a perfectly judged piece of showmanship that delighted because it was at once contrived and quite devoid of pretension - which is a pretty handy description of the film as a whole.
Habicht means no disrespect to the nauseating 1970 weepie by giving his film the same name. It's just that, as it drags you into its world, no other title seems apt. Not for nothing did a member of the premiere audience implore Habicht to "tell her you love her" on that phone call. The film he's come up with is, in its own way, as swooningly romantic as Brief Encounter.
But Masha, the lustrous and lissom Russian who walks into the movie and Habicht's life carrying a slice of cake, is no ordinary love interest. She is the film-maker's muse, collaborator, critic and sparring partner in the oddest of enterprises - a love story made up as its participants go along, assisted by the inhabitants of the city in which it's set.
That city is New York, where Habicht spent a year as an inaugural recipient of the Harriet Friedlander Residency, which sends an artist New York for as long as $80,000 will last - and expects, in return, absolutely nothing. Habicht repaid the trust by making what is surely one of the wittiest and most delightful films of this or any year.
New York is not exactly noted as a city of love but Habicht, irrepressible optimist, seeks inspiration from those he meets and strikes gold: "A woman who is holding a piece of cake," says one. "It means she wants your body." Two young women are anxious to help because "we're both theatre majors". Thus the film becomes as much a valentine to New Yorkers in all their crazy, winning weirdness as it is a paean to love. And Habicht's father, Frank, beamed
in by Skype from the Bay of Islands, is a brilliant minor presence.
The film's charm has a slightly unsettling side too: at one point we sense that Masha and Florian may have different perceptions of what's happening - and our own may be one of theirs, or another perspective altogether. It's an entirely intentional bending of the rules and part of what you might call a dark playfulness that has distinguished everything this unique and original film-maker has done.
This deserves to become a Kiwi classic - and a New York one too.
Stars: 5/5
Cast: Masha Yakovenko, Florian Habicht, Frank Habicht
Director: Florian Habicht
Running time: 92 mins
Rating: M (sexual themes) In English and German with English subtitles
Verdict: Instant classic
- TimeOut