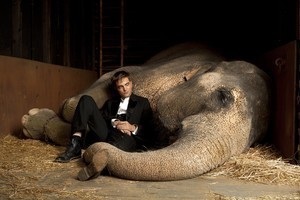 MOVIES
You know it's one for the ladies when a film stars a cute animal, Reese Witherspoon and Robert Pattinson sans the glitter.
Pattinson's latest departure from vampires is the film adaptation of Water for Elephants out today, along with Australian comedy A Heartbeat Away, in which a geeky marching-band obsessed father threatens his son's chances of becoming a rock star.
For the kids there's the Hoodwinked Too! Hood vs Evil, which is the sequel to the 2005 film loosely based on Little Red Riding Hood - now in 2 and 3D - and for the thrillseekers, Catfish, a film about Facebook that is so mysterious we are not supposed to say anything more about it.
MUSIC
What does a desert sound like? Is it hallucinogenic metal or a lilting French accent? These questions can be answered this week as Kyuss, the 90s metal band from Palm Desert and Marianne Dissard, the French-born folkie who now lives in Tucson, pop in to play.
Kyuss will bleed into the walls of the Powerstation on Friday and Saturday nights and Dissard performs - and shows her remake of the Andy Warhol film Lonesome Cowgirls - at Ponsonby's Golden Dawn on Sunday.
And as the next week of New Zealand Music Month rolls around there are gigs by Jason Kerrison, Ruby Frost, the Nairobi Trio, Annabel Fay and Jan Hellriegel at The Whiskey, as well as Shayne Carter delving into his deep songbook at the Kings Arms on Saturday.
TV
New Zealand may not have always considered itself a big food nation but the success of MasterChef suggests good food is as interesting to Kiwis as any proud European.
In Sunday's two-hour finale the remaining contestants Jax Hamilton and Nadia Lim must produce four very different dishes to prove they deserve the title and the $100,000 prize.
So will it be Jax, the long-standing favourite who manages to survive her stumble on last week's challenge, or Nadia, the most health-conscious of the competition, told to rein in her creative flair, who best whets the appetites of the three judges and their guests, Simon Wright, Judith Tabron and patissier Guillaume Nicoli?
OR...
Be careful into which city venues you walk this weekend - if Kim Hill is the only one heckling you could be at the Writers and Readers Festival, and if the subject matter relates to genitalia or toilets, it is more likely the New Zealand International Comedy Festival. Read your programmes.
- TimeOut