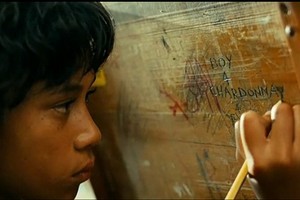 Taika Waititi's Boy has had another successful night, this time at the inaugural Visa Entertainment Screen Awards in Auckland.
James Rolleston, who missed out on Best Actor at the Qantas Film and Television Awards to Tony Barry (for Home By Christmas), won Best NZ Actor and Best Newcomer.
Waititi won Best NZ Director (watch acceptance speech here), with the film also winning Best NZ Film (watch speech here).
"It's great to see James Rolleston win," says Kate Rodger, host of TV3's film show Reel Late With Kate, and who also hosted the awards.
"He was clearly a favourite with punters and now he can look Taika in the eye as an equal and say 'I've got my own award, mate!'."
Days after finding out they made the Academy Awards short film long-list, Mark Albiston and Louis Sutherland won Best NZ Short Film for The Six Dollar Fifty Man.
The awards, which were in conjunction with Reel Late With Kate, were designed to give the public a chance to pick their favourites, rather than as competition for the Qantas Awards.
"I fell in love with the Empire Awards when I was in the UK and I wanted to do something here that's similar," says Rodger.
"TV has the TV Guide Awards for the public to pick their best in television and I just wanted to have a people's choice for the big screen."
Voting was open to the public via Reel Late With Kate, and TimeOut, and over 15,000 votes were received.
Full list of winners
Best NZ Film
Boy

Best NZ Actor
James Rolleston

Best NZ Actress
Rose McIver

Best NZ Director
Taika Waititi

Best NZ Export
Sam Neill

Best NZ International Film
Avatar

Best NZ Big Screen Documentary
The Topp Twins: Untouchable Girls

Best NZ Short Film
The Six Dollar Fifty Man
Best Newcomer
James Rolleston