Rating: * * * *
Verdict: Exhilarating and hilariously smutty.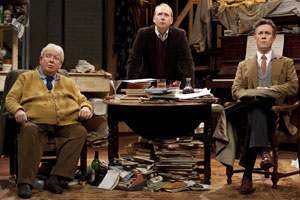 So far from GMT, we miss the National Theatre's live broadcasts to cinemas. But in very short order (this is the April 22 performance) we can have the best seat in the house for the production of the first new play by Alan Bennett since the sensation that was The History Boys.
And what an exhilarating experience it is, not least because the play, which is built around an imaginary 1972 meeting between poet W.H. Auden and composer Benjamin Britten, is an absolute cracker: playful, learned, funny as hell (although it's ribald, even smutty at times and definitely for adults) and also deeply poignant.
"Real artists are not nice people," Bennett, in a piece in the London Review of Books, quotes Auden as having written.
"All their best feelings go into their work."
And certainly the Auden that emerges from the play is less than likeable: as played by Richard Griffiths, he is a shabby, grubby, repetitive bore given to sudden bursts of lacerating wit.
Bennett, who turned 76 last weekend, shows that his creative vigour is undimmed.
Challenged by the story's need for expository dialogue, he resorts to a structure that is complicated but never unclear: we are in a rehearsal room for a play called Caliban's Day, whose setting is the cluttered room in the Oxford college called Christ Church where Auden spent his last two winters.
In the play's first half, we see the poet interviewed by the BBC reporter (Adrian Scarborough) who will become his biographer; after interval the drama revolves around the meeting between Auden and Britten, who had once collaborated but parted on bad terms.
Through both halves flits a rent boy, an earthly Puck summoned to Auden's rooms for services that are, comically, never rendered. Meanwhile the "rehearsal" is constantly interrupted as the writer, director and cast of the play within the play trade wit and tired wisdom about their craft - and much else besides.
This multi-levelled approach - we are not watching the historical figures but actors playing actors playing them - gives plenty of room for the manifold ironies to breathe.
It also somewhat weakens my single misgiving about the casting: Griffiths stepped in at short notice when Sir Michael Gambon was taken ill.
The latter would have been a more convincing Auden - his face is closer to the craggy countenance that the man himself described as looking like "a wedding-cake left out in the rain". It remains hard to get past Griffiths' gargantuan bulk and remember that this is artifice, not documentary.
Keep an eye on the paper for a screening near you. Contractual obligations limit the number and it will be all over by tomorrow week.
It's a splendid chance to see the best of London theatre for the price of an interval drink on the South Bank.
Cast: Richard Griffiths, Alex Jennings, Adrian Scarborough, Frances de la Tour, Elliot Levey
Director: Nicholas Hytner
Running time: 171 mins (including interval)
Rating: Exempt