Rating: * * *
Verdict: Enchanting if occasionally unfocused.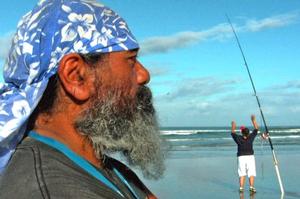 In 2004's Kaikohe Demolition, German-born New Zealand-bred filmmaker Habicht got to know the stars of a dodgems-to-the-death demolition derby in the Northland town of the title and then filmed the hilarious showdown.
In what he calls "a sequel of sorts", he is in the far north again, at the Ninety Mile Beach fishing competition formally known as the Snapper Classic. A five-day surfcasting event, it carries daily prizes of $3000 and a prize of $50,000 for the biggest snapper landed.
They're a tough breed, these fishermen (there are a few women in the film, but only one has a fishing rod): as the waves roll in before a howling westerly and the rain falls horizontally, someone remarks on the "perfect conditions".
And as they cruise the sands, stopping to look at or talk to anything they find interesting, Habicht and his collaborators Niamh Peren and Christopher Pryor capture the participants' unique mixture of the eccentric and the down-to-earth.
It's a fine piece of Kiwiana, but it's hard not to feel that the film might have been better if more had been left out of the final cut.
A line of fishermen will always include a greater-than-normal proportion of bullshit artists and that's so here, but the film gives some of them too much screen time - a beer-fuelled sequence at the Waipapakauri Hotel goes on far too long - and in straying into nearby Kaitaia, Habicht loses focus.
The decision to ask the participants strange questions (about the afterlife, say, or Princess Diana) has a certain Herzogian charm, even if some of the answers might best have been left in the camera. And the failure to match names to faces in the end credits is disappointing.
But at its best the film is quite enchanting: eerie tableaux - a dancing sequence is particularly memorable - and strange spray-filled landscapes with lines of figures and poles set against cloud-piled horizons make for striking, almost surrealistic moments.
It's the off-centre view of the everyday that is the director's trademark, and it's always welcome.
Director: Florian Habicht
Running time: 75 mins
Rating: Exempt