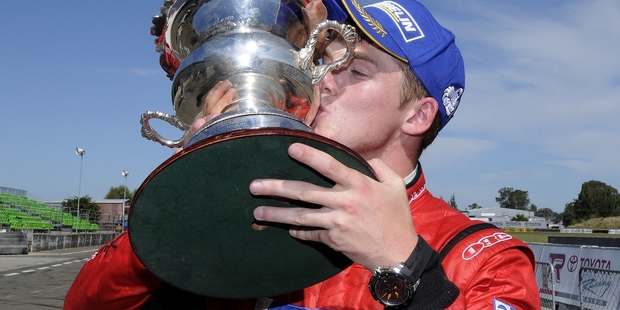 The New Zealand Grand Prix is one of only two Grand Prix run outside the grasp of Formula One - the other is in Macau - and is the first GP meeting on the FIA international motor sport calendar.
The New Zealand event is part of the Toyota Racing Series and is one of the big prizes for the drivers contesting the Toyota Racing Series.
This weekend is the 59th running of the event, and the packed field of 22 drivers at Manfeild will notice the addition of the defending TRS champion and two-time former NZGP winner Nick Cassidy.
The young Kiwi has pulled together a last-minute deal to contest the feature race this weekend and is keen to become only the second driver - the other is Craig Baird - to win three consecutive NZGPs.
"Yeah, it's all been a bit of a rush," said Cassidy.
"At Hampton Downs last weekend Andy Neale asked me if I wanted to fill in for Andrew [Tang]."
Tang had looked likely to have to go back to Singapore to start his national service but was then able to stay in New Zealand.
"Of course I wanted to do it and when that drive fell through I started working on getting another drive. First up I found a group of guys who would be able to work with me on the car and run under the Neale Motorsport banner.
"After that was all sorted I started getting the financial backing sorted and was really pleased that Northland Toyota and the Giltrap Group would come on board along with my existing sponsors Jonesway and BNT.
"I was a bit stressed mid-week trying to pull everything together, but by the time I got to go testing on Thursday I was really excited."
Cassidy has been one of the outstanding drivers in the TRS championship over the past three years, starting as rookie of the year in 2011 and winning the title in 2012 and last year.
He spent the rest of last year testing and racing overseas in various categories and is now advising Andy Neale's new TRS team and its drivers, Tang and James Munro.
"It was really cool to be able to climb back into the car again and although it all felt a bit strange, it was a nice feeling," said Cassidy.
As with anyone who has the gift of being able to go fast in just about anything they belt up in, Cassidy was up to speed and in the first session was second fastest on old tyres and while trying to find a base point to start dialling in a good setup for the weekend.
"It was encouraging to be that quick straight off, but in the next session I was back to around 12th," he said. "These guys are pretty good and have been racing hard over four weeks now.
"They're really on to it now so it's going to be really tough and we've got a lot of work to do but I'm confident."
The Grand Prix trophy has had some illustrious winners over the past 64 years, including Stirling Moss, Jack Brabham, John Surtees, Bruce McLaren, Graham Hill, Jackie Stewart, Chris Amon and Keke Rosberg.
The first NZGP was held at the Ohakea Air Force Base in 1950.
It gained an international flavour in 1954 when it moved to Ardmore, south of Auckland, where crowds of around 70,000 would turn up to see young Kiwis such as Ross Jensen, Bruce McLaren and Johnny Mansel challenge international drivers including Prince Bira, Stirling Moss, Jack Brabham, Carroll Shelby, Lorenzo Bandini, Joakim Bonnier and Roy Salvadori.
In 1963, the race moved to Pukekohe and fans flocked to watch future world champion John Surtees win by fending off Jack Brabham, Bruce McLaren and Graham Hill.
Over the next six years, Pukekohe attracted more big names in the sport, including the like of Jochen Rindt and Piers Courage who went wheel-to-wheel with New Zealanders Denny Hulme, Amon, Angus Hyslop and Jim Palmer.
After the successful debut of the wings-and-slicks format of the Toyota Racing Series in 2004, the Grand Prix title was awarded to the class in 2005.
It has remained so since and has been raced at the Manfeild circuit since 2008.