Good run puts Dixon in with a chance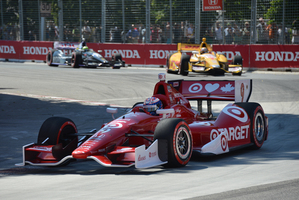 IndyCar driver Scott Dixon has his season back on the rails after three wins in a row and is now a contender for this year's championship title.
The Kiwi driver looks good to grab a bundle of points this weekend in the Honda Indy 200 at Mid-Ohio, a track where he's won for the past two years and four times in all.
If he can pick up another win, he'll all but obliterate Helio Castroneves' 29-point championship lead and put himself in the box seat.
Dixon is one of the most respected drivers in the series because of his tenacity and his knack of overcoming a run of bad luck to suddenly be right back in the hunt for a title.
In an earlier interview with Driven, Dixon's teammate Dario Franchitti said, "For anyone to win a title they have to go through Scott".
Since 2005, Dixon has not finished the season outside the top five. He's had a championship, three seconds, three thirds and a fourth.
Another stat that should worry his fellow racers is that Dixon won his first IRL championship in 2003 and his second in 2008. It's now five years since his last championship, so odds-on he'll add a third title at the end of the season.
"The start of the season was definitely not what we intended," said Dixon. "It's been a tough season, but we've hung in there and the results are starting to come.
"The series is so competitive and there's been a lot of different winners with people making strides at different times.
"Mid-Ohio has been a great track for us and I just hope we can keep the wheels for the weekend and we don't have any reliability problems.
"The biggest thing now is to keep the momentum going and get another win and not worry about any of the other drivers."
Honda and Dixon's Target Chip Ganassi team appear to have the engine sorted now. But despite the run of good results, fans shouldn't be thinking Dixon's car has suddenly found a heap of horsepower to be on par with the Chevys.
The Hondas are still about 8km/h down on top speed, but their fuel consumption gives them an advantage over the Chevy-powered cars on the right tracks.
"It's the mid-range power that's really good with our car," said Dixon. "It doesn't have the top end and that punishes us in qualifying. Mid-range power, though, has made it much better on the street courses, and being able to tune the engine for improved drivability has helped as well."
The Aucklander ticked off his 32nd IndyCar victory in Toronto to move into seventh place on the all-time winners list. The run to the end of the season looks likely to favour Dixon.
"With the circuits we have remaining we have a pretty good chance to keep collecting points. Mid-Ohio should be good but Sonoma, unfortunately, has been a Penske track. I remember qualifying fourth there, passing Helio [Castroneves] and then being spun by him later on.
"At Baltimore we qualified on the front row last year, Houston is a new one for a lot of us, and at Fontana we finished second last year.
"They seem to be decent circuits for us, but the secret is to be able to stay consistent."
Consistency is the essence of winning any championship, so it's no surprise Castroneves is leading the series. He may have only one race win, but he's finished every race.
A bit of consistency at finishing well in the last few races has hauled Dixon up from seventh on the table to be within striking distance of the championship lead.
"Things can change very quickly especially if you get yourself in a bit of a hole," he said. "It's so close this year and we need to get the maximum each time we have a chance."
IndyCar Series points
1. Helio Castroneves 425
2. Scott Dixon 396
3. Ryan Hunter-Reay 356
4. Marco Andretti 355
5. Simon Pagenaud 309
6. Tony Kanaan 307
7. Dario Franchitti 307