Super-quick Kiwi thrilled to be lining up for second stab at 24-hour endurance race.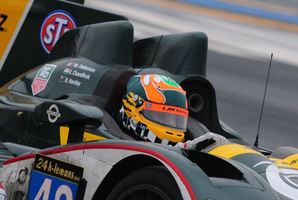 One of New Zealand's best young single-seater pilots, Brendon Hartley, has made the transition to sports car racing, while not quite seamlessly, pretty comfortably.
The young Kiwi proved he was quick in open wheelers, finishing third in the Toyota Racing Series in 2005, followed up by winning the World Series by Renault in 2007 and was then promoted to be the reserve driver for Red Bull and Toro Rosso Formula One teams.
Pouncing on his chance to become a driver with the fledgling Murphy Prototypes Endurance Racing Team last year, Hartley quickly came to grips with the LMP2 Oreca 03 Nissan, putting on a sterling display as a rookie at the iconic Le Mans 24 Hour race.
That one single event is steeped in so much history and passion, any driver worth their salt would give a small part of their anatomy to belt up and go for a fizz around the Circuit de la Sarthe.
Most people would be hard pushed to imagine what it would be like to travel at 350km/h with your bum mere centimetres above the ground. Just try and imagine doing that speed at four in the morning with the sun coming up as you hit a bank of mist - and there's no reset button a la a video game.
With a year of successful sports car racing under his belt, Hartley has the biggest grin on his face in anticipation of this weekend's 90th running of Le Mans with co-drivers former F1 pilot Karun Chandhok and veteran American driver Mark Patterson.
"It's great to be back at Le Mans and so far everything is going pretty smoothly," Hartley told the Weekend Herald as he headed out for the first qualifying session.
"We had a pretty good go at it last year and probably could have won it. It's really exciting to be able to do it again but it's a tough, tough field of cars this year. I have never seen a field so tough in my life before and there are top class drivers everywhere you look."
Hartley and his co-drivers were able to climb through the field last year to lead the LMP2 class after about eight hours and looked good for a podium finish at minimum. The Kiwi was consistently setting the fastest class lap times, easing away from the rest at around 10-12 seconds a lap and had at one stage climbed inside the top 10.
However, it wasn't to be and a rear suspension part let go, ending their race after rising to seventh outright.
"We were quick last year so we should be able to go well this year. Oreca has done an update on all the cars after the failure of the upright last year so we should not have the same problem this time," said Hartley.
Qualifying is held in the evening from 10pm to midnight and then 7pm to 9pm the following evening. A strange time to be sorting out the grid, you might think, but there is a method in the madness.
"With this race they keep a lot of tradition and the track is actually a lot quicker at that time of night. The track still has a bit of warmth and the air is much cooler than during the day, which suits the engines.
"Generally that's when the fast laps come anyway," said Hartley.
Who gets to start the race can be a bit of a curly question. Conventional wisdom would dictate that all three of the drivers in Hartley's car would want to be the first to jump into the hot seat and grab the bragging rights of being first away.
Not so. The more sensible realise it's all chaos, nerves, jitters and even bedlam as 68 cars howl away, all jockeying for position before settling down and realising there's 23 hours, 59 minutes and a handful of seconds of racing on the edge still to go.
"I'm not really sure but it might be the driver who sets the fastest time in qualifying who gets to start the race.
"Obviously there's a lot more pressure starting the race and doing the opening few laps. The guy starting has butterflies in his stomach two hours before the start while the other two are pretty chilled and relaxed.
"I think there'll be a few drivers who like to avoid starting the race. I'm happy to start the race. I've done it a few times and the race is certainly not going to be won in the first few hours.
"It was all a bit of an unknown last year when I came here as a rookie. The team's a lot stronger this year, as I am, and I've learned a lot about passing the slower GT traffic. We'll be looking at the big picture and trying to get the car to the end," said Hartley.
Hartley, Chandhok and Patterson qualified 15th outright in a field of 68 cars and seventh in class. Hartley, fastest of the trio, had the fourth fastest LMP2 time.