Stirling Moss is a GP hero, but his views on women at the wheel aren't winning friends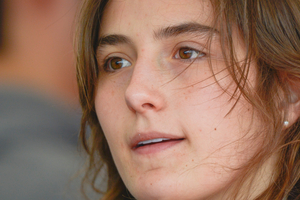 He might be one of the all-time greats of motorsport, but Sir Stirling Moss has a bee in his helmet about women racing drivers.
The 83-year-old Brit, who won 16 grand prix races between 1951 and 1961, told the BBC that women might have the physical strength to hurl a car around but lack something in the brain department.
"I think they have the strength, but I don't know if they've got the mental aptitude to race hard, wheel-to-wheel," he said.
"We've got some very strong and robust ladies, but when your life is at risk, I think the strain of that in a competitive situation will tell when you're trying to win.
"The mental stress I think would be pretty difficult for a lady to deal with in a practical fashion. I just don't think they have aptitude to win a Formula One race."
Five women have driven Formula One cars - Maria Teresa de Filippis, Lella Lombardi, Divina Galica, Desire Wilson and Giovanna Amati.
Only de Filippis and Lombardi made it to the starting grid on race day; Lombardi gained a point.
Michele Mouton could drive a rally car. Some say Walter Rohrl was lucky to win the 1982 championship because Mouton was one of the most consistent competitors, picking up four wins on her way to finishing second.
The most high-profile woman today is Danica Patrick, who jumped from IndyCar open-wheelers to Nascar tin-tops.
She won an IndyCar event in Japan in 2008 and finished third in the 2009 Indianapolis 500. She's struggling in Nascar.
New Zealand's Emma Gilmore was ranked the world's number one rally driver a year ago.
Our Toyota Racing Series has had female drivers in the past two seasons - Italian Michela Cerruti and Colombian Tatiana Calderon.
Asked about the physicality of driving race cars, the two gave similar answers.
"The thing I notice the most with formula cars [open wheel] is they are physically hard compared to saloon cars as there is no power steering. Only Formula One has that," Cerruti said.
"I have to do a lot of fitness training to be able to match the men. But the more you do the better you get, and racing so many kilometres here last year helped me a lot."
Calderon agreed that handling an open wheel car with heaps of aero downforce is physically demanding.
"It gets very tiring getting the car to turn in and then get control of it on the exit of a corner," she said.
"It's demanding in a TRS car, but when you move up the formula classes the strength needed is even more - especially if you were to race in GP2.
"I am training all the time to get the extra strength needed to control the cars comfortably at speed."
On mental sensibilities, Calderon added: "I'm trying to find a balance between being aggressive and not being too stupid. I'm not going to take a corner flat out because someone told me to - I want to check it out first. Maybe a boy doesn't really care about it and is not worried if it works or not."
Most of the blokes who run the sport want to have a woman competing in their series.
If there was a super-quick female F1 driver out there, Bernie Ecclestone would break the bank at Monte Carlo to get her a drive.