Ten years on from the accident that claimed the life of New Zealand rallying champ Possum Bourne, his sons have taken up his racing mantle.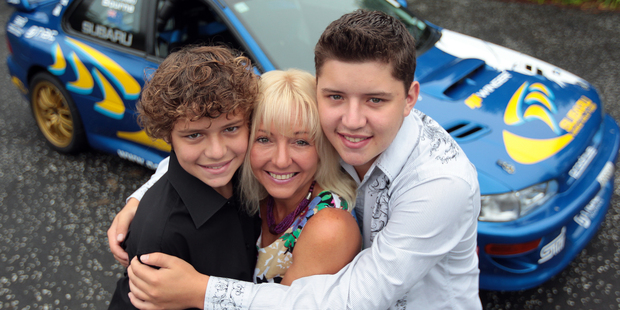 The family of Possum Bourne is ecstatic a statue of the racing legend is coming home to Pukekohe.
Peter "Possum" Bourne's three children all have something of their dad. Taylor is the image of him, Spencer has his competitiveness and daughter Jazlin has his charisma.
And now, 10 years on from his tragic death, his older sons are dipping their toes in the world of competitive driving.
Taylor, 18, and Spencer, 14, recently competed in an autocross event in which drivers use their own cars and tracks are set up in paddocks.
"It's still safe but it's not to the extent that you have to have roll cages or fireproof [clothing] or anything like that," says their mum, Possum's widow, Peggy Bourne.
"Basically, it's really awesome for young guys who want to go out and have a bit of a spin, in a safe, controlled environment and they can take their own car."
Both showed an aptitude their father would have been proud of; it was the first time Spencer had driven a manual car by himself and he was "just amazing", Peggy says.
Taylor also took part in a rally school run by Dale Perry, last month.
"Dale said to him, 'After the first corner the DNA kicked in'," Peggy says.
"I thought that was just really awesome. He just had a ball. He came back absolutely raving."
Taylor was 8 when his dad died and, because he was the eldest, he has the most memories of his famous dad. Peggy has also worked hard to make sure they know all about a man described by those who knew him as genuine and passionate about his sport. But, she says, it's easy to forget just what they do and don't know. Some of those involved with the rally school knew Bourne and shared their memories with Taylor - something he relished.
"It was really cool for him to hear things from colleagues and peers and other people," she says.
Yesterday was a chance for all three children to hear plenty more stories about their dad, when a statue of him was unveiled in Pukekohe.
Until now, the lifesize bronze by Queenstown sculptor Minhal al Halabi had stood overlooking the Snow Farm access road at Cardrona, between Queenstown and Wanaka, the site of the crash that ultimately claimed Bourne's life.
Possum Bourne was to compete in the Race to the Sky, in which drivers navigate 15km of gravel roads comprising 137 corners and climbing from 457m to 1524m.
He had some PR commitments scheduled in Queenstown but had left the clothes he needed for them at the top of the mountain.
Instead of going in his overalls, he decided to pop up the road while Peggy and 3-year-old Jazlin waited at the bottom. Spencer, 4, had been about to get in the car to go with his father on that fateful trip when, at the last minute, he decided instead to go luging with his big brother and their cousins.
It's something he has never forgiven himself for.
"He was Possum's shadow and he still to this day thinks if he had gone into that car with Possum he could have averted the accident," Peggy says. "I say to him 'Well, Spencer, what if you had been in the car and in the accident, maybe you wouldn't be here'."
Peggy felt a growing tension as she waited for her husband to return that day but it never crossed her mind that he was involved in an accident, and that her life was about to change forever. As they waited, Bourne's Subaru Forester SUV, on loan from a Christchurch dealer, was hit by a Jeep Grand Cherokee driven by fellow competitor Mike Barltrop.
The latter was on a recce for the race and initially claimed Bourne was travelling about 140km/h. Other witnesses put his speed at 50-60km/h. Barltrop, then 39, later pleaded guilty to aggravated careless use of a vehicle causing death. He was sentenced to 300 hours' community work and fined $10,000.
He broke a leg, but Bourne suffered devastating head injuries. He was airlifted to Dunedin Hospital and died 12 days later.
"Other than the kids, no one else existed for me. It was just Possum. I just lived and breathed in the ICU," Peggy says.
Her vigil ended on April 30, 2003. She can't remember how she told the kids their dad was dead, just remembers sinking into a fog for the next three months.
Peggy had to become mum and dad while grieving for her best friend, her hero. "I hate to say it but I had to grow up, and that was tough."
She went a bit "crazy" for a while, she says. That crazy included a very public relationship with former cricketer Simon Doull and an appearance on reality TV show Treasure Island: Couples at War.
In late 2006, she decided that wasn't the life for her; she asked her kids for forgiveness, learned to forgive herself and then went "back to basics", concentrating on herself and the kids.
She says there were times when she said to herself "Okay, Possum, I didn't do that one so good, did I?"
Peggy reckons Possum would approve of where she's at now. She is settled down with Mark Mitchell, a former international security contractor in war zones such as Iraq. The two had a whirlwind romance, much of it on Skype, with Peggy in Pukekohe and Mark in Kuwait.
Less than a year after they met, Peggy, Taylor, Spencer and Jazlin moved to Kuwait to join Mark and his daughter, Sylvie, now 16.
"It was all of us together and we all went to the Middle East, so we had to bond," says Peggy. "We could just be a family and learn to be together without any interference from anybody or anything. We were a family, instantly."
In late 2011, the couple married at their new home in Orewa, just a week before Mark won the seat of Rodney for National.
"He has just been the most amazing dad and probably the one person Possum would be ecstatic that he has taken on that role."
That's a sentiment echoed by Possum's mother - also Peggy Bourne. She says Mark is a lovely man and she's sure Peter, as Possum will always be to her, would approve of him.
"I'm just so pleased that Mark is looking after my grandchildren.
"The kids love him and he loves the kids."
Possum's mum tells of her son's early passion for driving: while his siblings would be off playing sport, he would hang around the farm in the hope of getting to drive the tractor.
She also tells of the night he crashed her Humber 80 avoiding a possum, and how by the next day the nickname "Possum" was firmly entrenched.
Possum was the second eldest of five children and, tragically for his family, the second child to die.
Eldest son Neville died in a farming accident when he was just 3.
The boys' father died of cancer 19 years ago, and Possum is buried with them, and other family members, at Pokeno, near Pukekohe.
That is just another reason his widow is rapt his statue is coming to his home town.
"He was born there, he was raised there - well, just down from Pukekohe - but Pukekohe was where he got his first job, where he used to drive milk tankers all around the district; he based his rally team there," Peggy says.
"The family is all there, they're all buried there."
But the moving of the statue was not without controversy, with some believing it should have stayed down south.
His widow agrees it was a "majestic" setting which awes those who visit but its remoteness meant the statue was seen by only a few hundred people each year.
Bringing it to Possum's home town of Pukekohe - of which he was fiercely proud - means thousands will be able to admire it, she says.
The unveiling was part of the town's celebration of 50 years of motor racing and was also timed to happen ahead of this month's V8 Supercars event.
Eighteen-year-old Taylor spoke yesterday, just as he did last month at Possum's induction into the Australian Rallying Hall of Fame.
The induction was in recognition of his father's seven consecutive wins of the Australian Rally Championships and came 19 years after he was inducted into the New Zealand Motorsport Wall of Fame - fitting recognition for the man who "essentially made New Zealand rallying".
That last accolade comes from one who should know: Hayden Paddon was just 15 when Bourne died and now stands poised to join sport's elite in the World Rally Championship (WRC). Two years ago, he won the third tier of the WRC, last year he was fifth in the second tier and he's aiming to eventually make it to the top.
Bourne was, he says, a huge influence.
"When I was growing up ... Possum was the best in New Zealand rallying and he was the one that we looked up to.
"He was the one that we were watching and supporting."
The young Paddon got his hero's autograph a couple of times. He sees him as the perfect role model, saying he always appeared happy "and respectful that he was very lucky to get to do a sport that we all love to do".
"I guess what he was famous for was not only his driving but the person he was."
One man who knows just what sort of person Bourne was is Craig Vincent, Bourne's co-driver for five years. He remembers Bourne appearing on the rallying scene in a V8 Cortina in the 1970s and quickly establishing himself as a talented driver.
The two were competitors for many years before Bourne asked Vincent to be his co-driver in 1996. "Possum was a people person, there's no doubt about that. He loved being around people and it didn't matter who they were, or what age, it didn't matter how successful they might have been at what they did," Vincent says.
"He just enjoyed doing so much what he did ... and that was entertaining people, whether it was in the car when he was driving and competing and putting it on for the fans, as well as entertaining them in public with his personality, because he was that sort of a guy.
"People will always remember him for that exuberant, enthusiastic personality.
"Possum could tell a story that was as big as Ben Hur."
Vincent bought Possum's last rally car - his Race to the Sky Subaru Impreza WRC replica - and, for the past couple of years his company, Vantage, has sponsored Emma Gilmour to drive it in the Leadfoot Festival on Coromandel Peninsula.
Gilmour, New Zealand's best female rally driver, says it's an honour to drive the car. She gives it a "pat from Possum" each time.
"It is extra special, absolutely, because Possum is such an icon in New Zealand motorsport and it's a special car," she explains.
Possum's former mechanics get together to look after the car whenever it's driven, and invariably the times they shared with him get an airing.
Gilmour saw him as a mentor and believes he helped her not because she was a woman in a man's world but because he liked to help people.
"He was really giving with his information and his experience," she says. "He just had such a love for what he did and he was happy to help people."
The help Possum so freely gave to so many is something Vincent is sure will come back in spades should the great man's sons decide they want to pursue a rallying career.
And who knows, maybe another Bourne will one day drive Possum's Race to the Sky car.