Nearly half this year's field cut teeth in NZ, writes Eric Thompson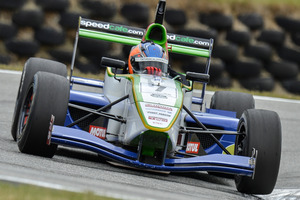 With the slow demise of the once great British Formula Three championship, a category that produced many future Formula One drivers and world champions, the Euro Formula Three series has grown in stature.
This year it was announced the British F3 series would be cut to just four races with 15 drivers, while the Euro F3 championship has 10 rounds and 30 drivers.
The incredible thing when looking down the list of drivers contesting the Euro F3 championship is nearly half the field, 14, have cut their open wheel racing teeth in New Zealand.
The annual Toyota Racing Series finished its ninth series this year and many of the overseas graduates are at the pointy end of the F3 title race at the start of the season.
European F3 is now recognised as the most competitive Formula Three championship in the world, attracting ambitious young racers from across the globe. In addition to the eight drivers from TRS 2013, a further six drivers from previous TRS seasons will also be on the grid in 2013.
The 2012 European F3 championship winning team, Prema Powerteam, have signed three TRS graduates; Alex Lynn (TRS 2011 and 2013) and Lucas Auer (TRS 2012 and 2013) and have been joined by Ferrari Development Academy driver Raffaele Marciello (TRS 2012).
These three drivers were in dominant form at the opening round of the series at Monza with Marciello winning the first race from Auer and Lynn in eighth. Race two had Marciello in second and Lynn sixth while Auer had a DNF.
Marciello won race three with Lynn third and Auer fourth. In fact, half of the top 10 finishers in each race were all TRS veterans.
British F3 Team Fortec has confirmed an all-TRS line-up. Josh Hill and Russian Dmitry Suranovich join Puerto Rican racer Felix Serralles and Brazilian Pipo Derani.
The Threebond T-Sport team also has an all-TRS line-up with Spike Goddard lining up alongside Irish racer William Buller (TRS 2009).
Three of Carlin Motorsport's four drivers are TRS graduates: current season graduates Nicholas Latifi (Canada) and British gamer-turned-racer Jann Mardenborough will race alongside Jordan King (UK) who was fifth in the 2012 TRS and went on to finish second in the Formula Renault Northern European Championship.
New to the series are two women drivers who raced in New Zealand, Colombian driver Tatiana Calderon and 2012 series competitor Italian Michela Cerruti. Calderon will race for the Double R team, while Cerruti enters with Italian team Romeo Ferraris.
The FIA F3 European Championship received a boost this year with official sanctioning from the FIA. The winner receives a Ferrari F1 test drive.
2013 European F3 Championship TRS graduates
Alex Lynn _ Prema Powerteam
Lucas Auer _ Prema Powerteam
Raffaele Marciello _ Prema Powerteam
Felix Serralles _ Fortec
Pipo Derani _ Fortec
Josh Hill _ Fortec
Dmitry Suranovich _ Fortec
Jann Mardenborough _ Carlin
Nicholas Latifi _ Carlin
Jordan King _ Carlin
Spike Goddard _ T-Sport
William Buller _ T-Sport
Tatiana Calderon _ Double R Racing
Michela Cerruti _ Romeo Ferraris