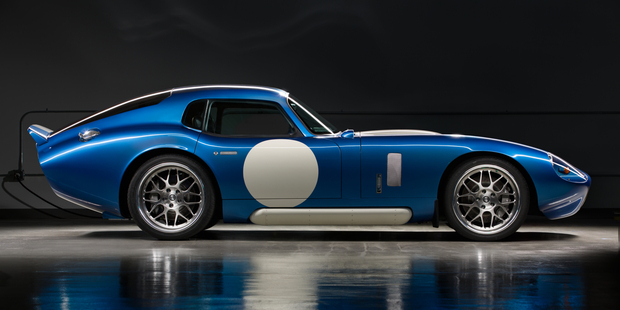 Okay, so maybe we are not all destined to a dull, passionless future of cars becoming appliances as electric drivetrains slowly invade our increasingly endangered haven of fossil fuel-powered roaring engines after all.
Why do we say this? Because that car you see in the picture accompanying these words is the future. And it is awesome.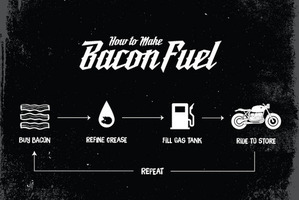 It is the Renovo Coupe and, while the body may be that of a Shelby American CSX9000 (Cobra Daytona Coupe), it is what is underneath that is the interesting part and gives us hope for the future of burnouts and reckless hooning.
You see, the Renovo Coupe is an all-electric car with a powertrain that pumps a colossal 1355Nm of torque and in excess of 375kW through the rear wheels for a 0 to 60mph time
(97km/h) of just 3.4 seconds.
And to make it even better, the video Renovo Motors has released to launch the Coupe reveals that it pretty much sounds like a TIE fighter from Star Wars! Now, lasers.
We need lasers ... Anyway, the Renovo Coupe is a serious piece of performance machinery which packs some impressive technology that the firm has been working on since 2010.
The Coupe's impressive performance is made possible by patent-pending battery technology developed by the company. Multiple separate battery enclosures enable a performance-oriented weight distribution and minimise chassis volume requirements.
Renovo claims that the drivetrain is less than 40 per cent of the total weight of the car, and yet delivers the highest peak power in its class.
The on-road performance is matched by a fast-charge system that can refill the batteries in just 30 minutes and maintains compatibility with a wide range of standard Level 2 charge systems. At the track, the Coupe can be charged between run sessions, offering what Renovo says is the "first true circuit-ready EV".
While that is all cool, all we can really think is Rear Wheels + 1300Nm = Big Skids!
But big skids will come with a big price, as the Renovo Coupe will go on sale in 2015 for US$579,000 ($682,180).
We are the world
• Why did the chicken cross the road? Well, the police in Portland, Oregon have no idea, because they couldn't find it.
Officers were dispatched following an emergency call saying that a chicken was attempting to cross a highway in rush-hour traffic. Upon their arrival they couldn't locate said chicken, which is a shame because it is a question that has haunted mankind for many years now ...
• Ryan Mullins of Swansboro, North Carolina, was arrested and charged with numerous offences after he broke into a pharmacy and stole the safe containing prescription drugs. How was he caught? He passed a police car while dragging the safe behind his car ...
Blinding speed
Mike Newman Picture / Litchfield Motors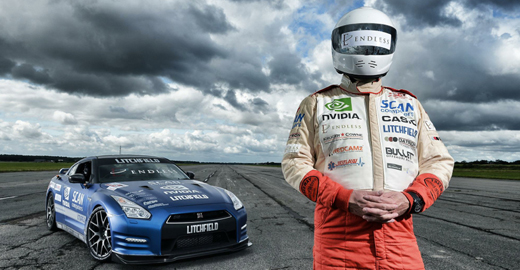 Mike Newman likes to set speed records, and he is quite good at it, too.
His first record was 299km/h in a Porsche 911 GT-2, then he went 150km/h in a boat.
Now he has just broken the 200mph (322km/h) mark in a Nissan GT-R RS-spec.
Mike Newman also happens to be completely blind.
Authenticated by Guinness World Records, Newman's run of 200.9mph (323.3km/h) was organised by Litchfield Motors and the Speed of Sight charity and is the official World Blind Land Speed record.

The 52 year-old father of two was born blind and was guided to his record top speed by a navigator over a radio link.
Joint venture for rugged Russian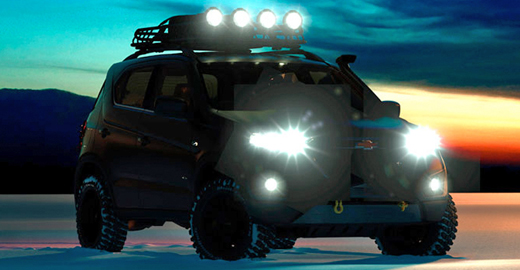 The Chev Niva features a far more modern body and interior.
The Lada Niva is a vehicle that is stuck somewhere between "legend" and "object of ridicule" here in New Zealand, but there is one thing no one can deny - they are one tough little son-of-a-soviet.
It should come as no surprise, then, that they still actually make them in Russia. The VAZ 2121 (as it is known) still sells new there, and is still every bit as unkillable, but another version is also sold there - the Chevrolet Niva.
The Chev Niva is built under a joint venture between Chevrolet and AvtoVAZ (parent company of Lada) and features an updated and far more modern body and interior draped over the VAZ 2121's utterly ancient chassis and drivetrain. Its off-road ability is said to be "formidable" and it is no doubt as tough as the original.
But here is the interesting part - GM has revealed a teaser pic of an all-new Niva and, man, does it look tough!
The new Niva features an all-new design and will get a 100kW 1.8-litre engine to replace the current car's 60kW unit, but there is no word on whether it will still be based on the same platform.
One thing is certain, however, it does look like one tough little Russian.
Pigs making bike fly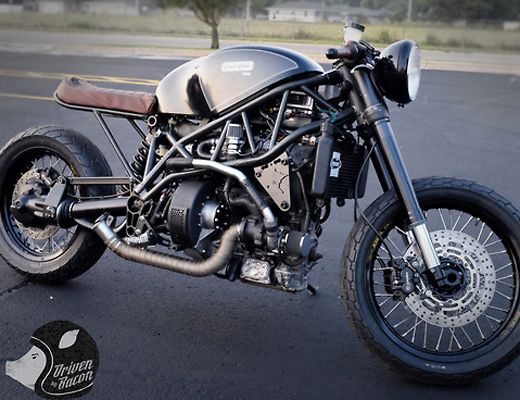 The diesel-powered EVA Track T800CDI motorcycle has been converted to run on bacon grease.
Bacon is pretty much the greatest food on the planet. If you don't agree with that you are clearly a vege, an idiot or a weirdo.
Now that we have that cleared up, we now present you with possibly the greatest thing on two wheels - a motorbike that runs on bacon grease that would otherwise be discarded following the cooking of said meaty delight.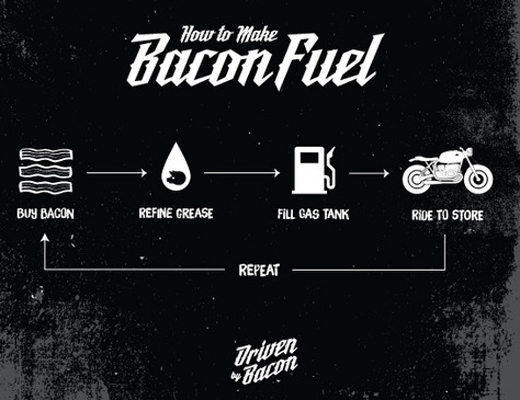 The delicious brainchild of Minnesota-based food company Hormel, the bike is an EVA Track T800CDI - a diesel-powered motorcycle from the Netherlands - that has been converted to run on bacon grease.
The idea is for a 12-man team to ride the bike from Austin, Minnesota, to San Diego, California, while filming and documenting their deliciously-scented adventure and arriving in San Diego in time for the International Bacon Film Festival.
That's right; the International Bacon Film Festival. That is a thing. And even though The Good Oil didn't even know it existed before now, it is something we desperately need to go to one day. Preferably on bacon grease-powered transport ...
Number Crunching
3.4 SECONDS
Renovo's 0-60mph is only 41st equal of fastest unmodified production cars.
9 CARS
... other cars share the Renovo's time.
2.2 SECONDS
The 0-60mph for the fastest, the Porsche 918 Spyder.
2.73 SECONDS
The 0-60mph an object travels in free fall without air resistance.