Fashion guru Dame Trelise Cooper's Mercedes-Benz CLS 500 is a haven in her busy world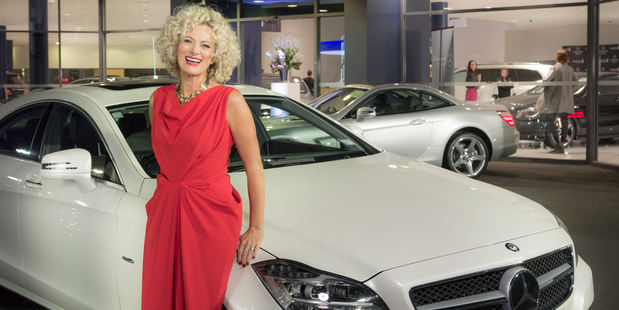 With New Zealand Fashion Week days away, her annual charity catwalk event just completed and an international accolade bestowed on her, Dame Trelise Cooper is extremely busy - but there's one place that is her haven: her car.
In her white Mercedes-Benz CLS 500 V8 coupe, fashion designer Cooper uses her driving time at the moment to sample music that she can use for the catwalk for her upcoming Fashion Week shows.
Having shown at every NZ Fashion Week, this year is special for Cooper. Her brand partner, Mercedes-Benz New Zealand, is the event's main car sponsor, following its involvement with Milan, London, Berlin, Paris and New York fashion weeks.
The car company also introduced "Mercedes-Benz Presents", a prestigious international programme that recognises designers. Past winners include Carla Zampatti, Carolina Herrera, Derek Lam and Badgely Mischka. Unbeknown to Cooper, Mercedes-Benz NZ's general manager Ben Giffin had approached NZ Fashion Week organisers about a recipient for the accolade.
• Read more Dame Trelise Cooper's prestigious new accolade
"We look at the designers in the country. We thought it was very apt for us to present it to someone who is the most prominent fashion designer from a global and local point of view," said Giffin.
"We thought Trelise would be a great fit to be the first recipient."
For Cooper, the nomination was a shock. "I really didn't understand to start with. I had to stop and really take it in and go 'oh wow'. It's a lovely accolade and I'm deeply flattered."
As Mercedes-Benz Presents winner, Cooper will open Fashion Week on Monday, August 25, followed by a VIP event.
But for now Cooper is finalising the outfits and making the most of her quiet time in her CLS coupe.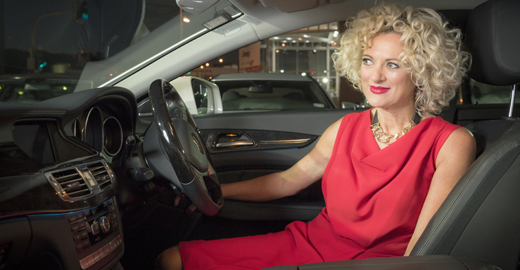 "I think a car is quite a private time," she said. "I don't get too often time on my own and my car gives me that time. It's a place for me to gather my thoughts, and connect with my family via Bluetooth phone calls ... because during the day in the office there are people needing me.
"In the car there is the time to make connection with myself or people in my family."
Cooper has been a Mercedes-Benz fan since 1980 when she and husband Jack Cooper bought a "cream convertible with red leather seats".
Through buying Mercedes, she became involved with the Coutts dealership in Newmarket, Auckland, and her relationship has extended further than being a customer.
As patron of the Breast Cancer Research Trust, Cooper has held an annual fundraising fashion show at the dealership, with this month's event attended by 800 people, including Prime Minister John Key and his wife Bronagh.
And it was through her relationship with Coutts that Cooper became brand partner with Mercedes-Benz NZ.
"For me Mercedes-Benz and my brand are a really good fit. We have the same brand values. I love everything about line proportion, great engineering, and good body.
"I think your clothing and your car speaks volumes - it tells the world who you are without you having to say a word."
In recent years she's owned a "black CLS and before that a silver convertible". Cooper sees a clear link between cars and clothes.
"There is so much artistry that goes into car making and so much detailing. It's all about form and function. Then there's all the accessories you can detail as well - spec up your car or pair them back, just like fashion."
Husband Jack has collected classic American hot rods and through his restoration process Cooper realised how much creativity goes into designing and building a car.
But Cooper's association with American cars began with her father, who imported Chevrolets.
"I learned all of my driving in big, wide, automatic American cars. So when I bought my first car, a Mini Minor, I had to learn about how to use a clutch," she laughed.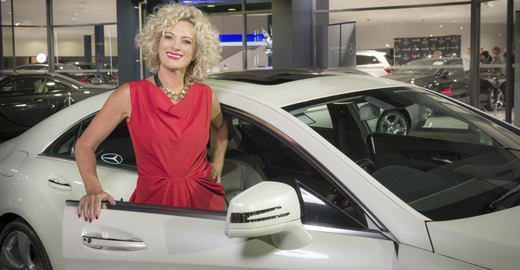 Trelise Cooper says Mercedes and her brand are a great fit.
With her current CLS an automatic, Cooper doesn't have to worry about changing gears manually, but she does give its Harman Kardon surround-sound system a workout.
"It's such a great stereo system that you can crank it up - and you stop at the lights and everyone gives you funny looks as I've turned it up too high.
"I like to listen to rap and quite strong beats. If I'm a little bit stressed it's a ballad and if I'm really stressed about something I'm going to, I'd put my iPod on and listen to hymns like Amazing Grace and sing that all the way to the meeting."
So if you pull up beside a white CLS in Auckland soon, with the stereo pumping loudly, its just Cooper getting ready for Fashion Week.