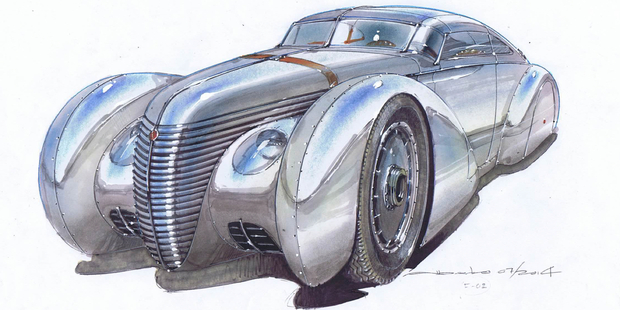 Sometimes insanity is a great thing. Well, it certainly is in the case of US-based vehicle customising outfit Icon's owner Jonathan Ward, who has just revealed what has to be the most beautifully insane car The Good Oil has seen for a while.
Ward told US website Jalopnik.com that the Helios (named after a Greek god) merges the streamliner aesthetic, post-WWI aircraft and his love of "alternate realities" and springs from the idea of a car that Howard Hughes would take Cruella de Vil out in if the Great Depression and WWII had never happened.
And the best part is that Ward is determined to build it, even if it is just a single, solitary example.
Possibly just as good, however, is the platform he wants to use - a Tesla. Not the current Model S, no, Ward wants to get his hands on the forthcoming Model X SUV, meaning that the Helios would boast the Tesla SUV's dual-motor, selectable AWD system and a completely impressive 612km range.
Ward admits that the Helios is very much in the concept stage, but one that he will "move mountains to figure out how to get built".
A big, bold AWD car with seating for five inside its brushed aluminium body (complete with exposed copper rivets, apparently) and a big dose of electric torque sounds good to us. Wonder if he would build one for the cost of a second-hand 2002 Ford Ka with a leaky power steering rack?
We are the world
• The Good Oil has never trusted beavers - they always looks a bit shifty to us - and this distrust may well be proven right with news from Canada that a beaver tried to kill a family when it dropped a tree on their car recently.
The family from Quebec were on holiday when a tree fell on to their RAV4, damaging the car's roof and the roof-mounted cargo box. It was later discovered that the tree had been gnawed through by a beaver. Wait a minute ... a RAV4? A roof cargo box? Maybe beavers are okay after all ...
• A vegan Peta employee recently had her personalised number plate rejected by the Tennessee DMV "due to vulgarity". All she wanted to do was express her love of tofu, so applied for the plate "ILVTOFU", which it seems the filthy minds at the Tennessee DMV took to mean something else altogether.
Blood and muscle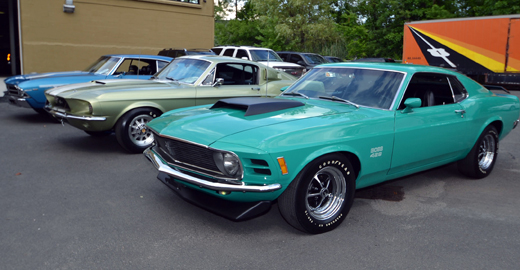 U.S. Marshalls are selling off seven desirable and rare muscle cars
It's not often that you get to throw around cliched phrases that are actually correct, so we will make the most of this one.
If you happen to be in Lodi, New Jersey, on September 12, have lots of money and a liking for classic muscle cars, then you could pick up a few at a US Marshal auction where the confiscated classics were bought with actual Blood Money! (Capitals on purpose and imagine dramatic music playing at this point.)
In what is being classily called the "Blood Muscle" auction, the US Marshals are selling seven desirable and rare muscle cars: a 1970 Ford Mustang Boss 429, a 1967 Shelby Mustang GT500, a 1970 Plymouth Superbird, a 1970 Chevrolet Chevelle SS convertible and a trio of 1969 Yenko Chevs (a Chevelle, a Nova and a Camaro) - that were confiscated as the result of a successful prosecution.
Now, before you get ideas of some grisly Hollywood movie-style mob massacre or something like that, the crime was actually bribery.
The bloke staring at jail time for it was the president of a blood-testing company, so the cars were all bought with actual, real ... blood money ... sorry.
Fast 500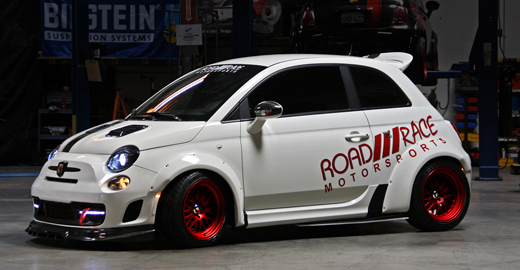 Photo / Supplied
Okay, so The Good Oil's love of small, insanely powerful cars is a pretty open secret, and that the various incarnations of stupidly powerful Fiat 500s are particular favourites is also not a well-hidden mental weak-spot.
So it thrills us no end that some lunatics in the US have built the utterly ridiculous (read: completely AWESOME!) Fiat 500 M1 Turbo Tallini Competizione.
It looks like it wants to kick your head in, despite the fact that it still makes you want to hug it because it is so damned cute. But don't do that. You will only make it angry. That wouldn't be good.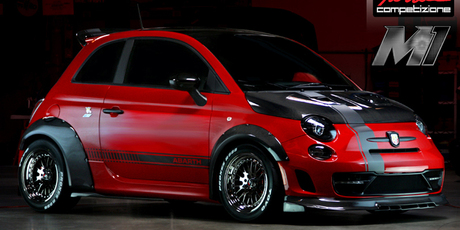 The M1 Turbo has a grunt to back up those outrageous looks too, with the improbably named Road///Race Motorsports (no, I didn't have a seizure writing this, the back-slashes are there on purpose) packs it with an extensive array of modifications including a limited-slip differential, a carbon-kevlar clutch and reworked suspension with Bilstein shocks, stiffer bushings and upgraded sway bar, 16-inch wheels wearing Toyo Proxes rubber, a full carbon-fibre widebody kit (that helps cut 55kg off the curb weight), a new front air dam, side skirts, hood vents, brake ducts, rear spoiler, racing bucket seats, five-point harnesses and a roll cage.
Road///Race have also tuned the engine to pump out 186kW of power and 340Nm of torque, resulting in a 0 to 100 time of 6.2 seconds.
Only 50 of the M1 will be built and, depending on specs, will cost up to a steep US$100,000 ($117,534). Hell, if we had that kind of money to drop on a car, we would do it in a second.
Ring Rover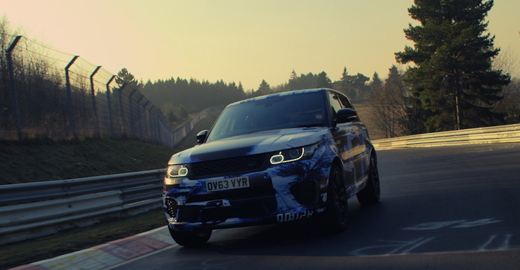 The new Range Rover Sport SVR set a time of 8 minutes and 14 seconds, making it the fastest production SUV around the Nurburgring.
"I really like that large, luxurious, expensive SUV, but what is its time around the Nurburgring?" asked no one ever.
But that hasn't stopped Range Rover from setting a surprisingly impressive time around the legendary Nordschleife in its clearly feral new Range Rover Sport SVR. The big Rangie set a (frankly blistering) time of 8 minutes and 14 seconds, making it the fastest production SUV around the Nurburgring.
That is almost three seconds quicker than the Renaultsport Megane RS26.R that held the record before Renault and Seat started their grudge match over that record this year, and the Megane sure doesn't have a 850mm wading depth of a low-ratio transfer case.
The Good Oil really hopes this doesn't start a "Ring War" between large SUV manufacturers because, no, wait! A Jeep Wrangler Rubicon that is trail-rated for the Rubicon trail AND can lap the Nurburgring in under 9 minutes would be freakin' AWESOME!
Number Crunching
1PLATE
Two US states have filthy minds (or hate tofu) and have banned the "ILVTOFU" number plate.
26 COMBINATIONS
The number of three-letter combinations that aren't issued on New Zealand number plates, including BUM, ARS and FKN
16MILLION
The highest amount in NZ dollars paid for a personalised number plate "No. 1" in Abu Dhabi in 2008.
3 STATES
Ohio, Minnesota and Georgia all require convicted drunk drivers to use special number plates.