Better car and a great crew make all the difference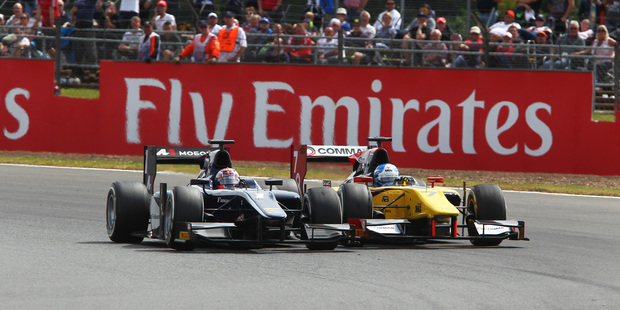 While the focus is on the German Grand Prix this weekend, two Kiwis are in action at Hockenheim - Mitch Evans in the GP2 and Richie Stanaway in the GP3.
Evans is looking forward to getting back into action for round six of his championship. Evans' early season form belied the talent the Kiwi has, and in the run up to the Monaco round he was back in 16th with just two points.
However, on the mean streets of Monaco Evans proved that once he had a car good enough under him he could get back on the podium. At the next round in Austria his best finish was a fourth and more valuable points. Then came Silverstone. This time he stood on top of the podium and backed it up with a seventh in the other race.
The points haul over the three race weekends moved Evans from mid-table all the way up to fourth and within striking distance of Johnny Cecotto in third. The series is at its halfway point so there's plenty of time for the Kiwi to eat into the lead of Felipe Nasar and champion leader Jolyon Palmer.
"I probably haven't felt the car as good as it was at Silverstone since pre-season testing," said Evans.
"It's crazy really just what you can do with the car when it's right. It gives you a lot of confidence to know you can do well and it worked sensationally all weekend.
"Hopefully we can keep that sweet spot range for the rest of the championship and I reckon we'll be battling for more race wins."
Evans is at pains to make sure he isn't getting too carried away with the success he and the team are experiencing at the moment. He's well aware that being too confident can lead to disaster. His crew of mechanics and engineers are building a solid and comfortable relationship and learning from each other all the time.
The people behind the preparation of the car only returned to the GP2 series this year and, like Evans, have been rushing to get up to speed and develop a good car.
"The drivers and the engineers need to have a lot of confidence. It's a two-way street," Evans said. "They can't be in the car with me so they're going off my feedback to them, but once you get a momentum going and heading in the right direction they also know they're giving me a good car. I feel I know have a car I can win in."
Hockenheim is one of the shorter tracks the GP2 cars race on and the stadium section is narrow and there won't be many passing opportunities. So qualifying is going to be important to try to get into free air and stay out of trouble.
Tauranga racer Stanaway's comeback year in single seaters after his big crash at Spa Francorchamps is steadily gaining momentum. Heading into round four of the GP3 championship Stanaway's confidence in himself and the car is growing especially after his win at Silverstone.
The Kiwi has been on the podium at least once on every weekend he has raced in his comeback to single-seaters and thinks the team can only get better. He's 18 points behind series leader and former Toyota Racing Series participant Alex Lynn and Swede Jimmy Eriksson. "I was pleased with the Silverstone result since I hadn't driven there before in single-seaters and had to learn it all in practice," Stanaway said.
"The first race wasn't the best so we stayed up late that night and figured out from the data how to make the car better."
His consistency in picking up points at every round has helped Stanaway stay in touch with the series leaders but the point's structure rewards race wins and pole positions, especially in the feature race.
Now that Stanaway may have the car in which he can do the business he's targeting race wins to ensure he has a decent chance of winning another international.
"I've been to Hockenheim a few times [2011 and 2012] and I managed to win all my races on both weekends so I'm unbeaten there. Obviously GP3 is going to be harder than when I raced there in the German F3 championship. "We've also changed the car a little bit and it seems to be working quite well now. We can't rest though and have to stay on top of it to make sure it is where it has to be for the next couple of weekends."
GP 2 points after round 5
1. Jolyon Palmer - 143
2. Felipe Nasar - 105
3. Johnny Cecotto - 94
4. Mitch Evans - 67
5. Stefano Coletti - 67
6. Julian Leal - 66
GP3 points after round 3
1. Alex Lynn - 86
2. Jimmy Eriksson - 78
3. Richie Stanaway - 68
4. Emil Bernstorff - 58
5. Marvin Kirchhofer - 49
6. Nick Yelloly38