Batteries are the way to go, writes Jacqui Madelin
Search the web for radical concept bikes and you'll find plenty. However, the craziest -- like the Mach Ness Monster with its gas turbine helicopter engine or the Icare -- are more than five years old.
Concepts under the spotlight nowadays revolve around the development of battery and electric power, and tend to closely resemble production machines -- think Yamaha's PES1 and PED1 road and dirt bikes.
Kawasaki's three-wheeled J concept, unveiled at the 2013 Tokyo Motor Show, looks radical enough, with its upright riding position and wide track in round-town mode morphing to a narrow, streamlined sliver at speed, but it's powered by a battery.
There is no reason speed and excitement can't be powered by eco-friendly fuel, as proved by the TT Zero race class for electric motorcycles on the Isle of Man.
Debuting in 2010, it pitched a challenge to find a bike capable of completing a 60.72km lap of the complex course at an average speed of more than 160.9km/h.
That may not sound quick -- New Zealander Bruce Anstey broke the overall lap record this year on a Honda CBR1000RR at an average 212.9km/h -- but believe me, riding fast over this terrain is not easy. Nor is managing battery power; not just because batteries are heavy, but because they must deliver both high speeds on the fast, flowing sections and high torque for the mountain ascent.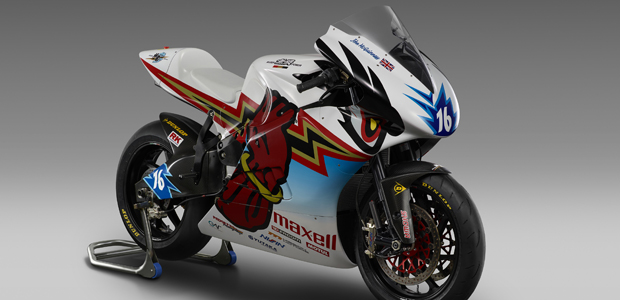 The Mugen TT Zero bike was a winner on the Isle of Man.
The TT Zero class is now raced each year, and in 2014 was won by John McGuinness (Team Mugen) at an average 188.88km/h -- topping Joey Dunlop's 1981 lap record -- after four years spent in the shadow of US team MotoCzysz, which did not enter this year.
Recognise those names? Perhaps not, for TT Zero is raced primarily by egghead teams and not major manufacturers. And most of those teams concentrate on researching the technology, rather than marketing it.
Mugen Euro Co general manager Colin Whittamore says his company began the development of an electric racing bike in 2011 and entered TT Zero with the first Mugen Shinden in 2012, finishing second at 164.1km/h average. This year marks its third generation -- with a new bike each year.
Whittamore says, "It is often misquoted as being a programme on behalf of Honda, but it is not," and there are no plans to build the bike. He says the programme is designed to educate staff in developing electric vehicles to gain skills that are becoming more and more important in the firm's core motorsports business, with the increase in hybrid and electric vehicles in motorsport.
The company also believes electric bike racing (and electric road vehicles) will be more common in future and it wants to create a legacy of Mugen at the Isle of Man.
This year's machine develops 100kW and 220Nm and is capable of a top speed just over 165km/h after an eight-hour charge.
The 250kg bike drains its lithium ion battery after that single lap -- but Whittamore says it will run considerably further at reduced speed.


Yamaha's PES1 electric bike concept.
McGuinness, who has won 21 TT races, and nine-time winner Anstey say because the bike delivers such linear throttle response -- with no gear-change effects -- the most effective racing technique is to keep it smooth and carry as much cornering speed as possible.
Both men describe it as similar to riding a 250cc racer with occasional power hits closer to a 600cc.
Ohio University's RW-2x Buckeye Current joined Mugen on the podium with a team funded to just US$30,000 ($34,500). The student-designed and built bike is developed by the uni's centre for automotive research.
It's not the only university that's a regular on the start line. Kingston University entered Ion Horse in 2011 and 2013, finishing third and fourth. Rod Bromfeld, a senior lecturer at the London college's school of engineering, runs the team on a shoestring as part of its alternative transport department.
It is working on an electric commuter and a delivery van using hydrogen fuel cells and photovoltaic cells on its roof.
He sees such development as "one of the ways forward to get away from internal compression-powered vehicles".
It's a way embraced in theory by the world's foremost bike manufacturers, if the proliferation of electric-powered concept bikes that look almost production-ready is any guide.
But it's the profile of the electric speedsters that will sell the concept to today's bikers, who are as focused on rapid and enjoyable progress as they are on the green benefits of relying on batteries, not bowsers.
Watch John McGuinness break the TT Zero lap record in May this year here.