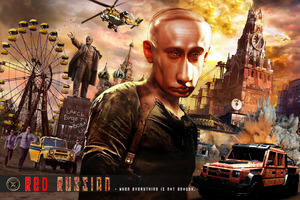 For a while now The Good Oil has been a huge fan of Dartz Motorz. For sheer insanity on wheels, Dartz's extreme modifications of big Mercedes SUVs and even the company's own Prombron (based on a Merc platform, apparently) simply can't be beaten.
But the real reason we love those crazy Latvians is for their absolutely mental press releases, complete with bad grammar, offensive punctuation, appalling spelling and a thorough mangling of the English language.
Their latest creation, the Red Russian -- a heavily modified Mercedes G63 AMG 6x6 -- is just as crazy and over-the-top as anything else they have done, with its hand-painted "camouflage" finish and a bespoke interior featuring leather from the same company that supplies Ferrari and Bentley (apparently), including floor coverings made from shark leather. True.
But while the paint job is thrilling in its own right, it is the press release that is the true highlight and Dartz have excelled themselves this time with a true work of gibbering, mangled-English art. And it is even accompanied by a bizarre rendering of Vladimir Putin standing in front of a Red Russian and what appears to be the apocalypse.
I mean, this is how the press release starts:
"RED RUSSIAN based on AMG63 6x6 is next OF THE NEW generation of car skyrocketing made by DARTZ."
If that isn't quite insane enough for you, then this beauty should twist your brain sufficiently:
"Since 2013 all DARTZ Prombron' cars are based on GL chasses -- but some people still like exact old good Mercedes. Yeee, people forget days when there was many carosseries which madxe bodie's on Mercedes chasses.
DARTZ also call themselves not car builders or tuners."
Yeee, indeed, people DO forget days when there was many carosseries which madxe bodie's on Mercedes chasses. We certainly would have. If we knew what the hell they were going on about, that is.
We are the world
* A Florida woman was recently arrested for shooting a missile into a car. While this raises a number of interesting questions, perhaps the most interesting thing about it all is her name. Truly. According to the police report (and confirmed by US website Jezebel.com) the woman's name is - wait for it - Crystal Metheney. A name like that is never going to set you on the right path through life, so the whole missile/car thing probably came as no surprise to anyone who knew her ...
* It is now possible to get a (damn near) $20,000 speeding ticket in Britain. The maximum fine, which has quadrupled following sweeping new reforms to traffic infringement penalties, can only be applied by magistrates. However, leading motoring groups have labelled it "disproportionate and draconian". Basically, if you get a speeding fine and decide to challenge it in court, you could end up being slapped with the massive £10,000 fine if things go badly for you.
Truckasaurus up for grabs
Have you ever wanted to own your very own car- and plane-eating robot dinosaur? What are we saying? Of course you have!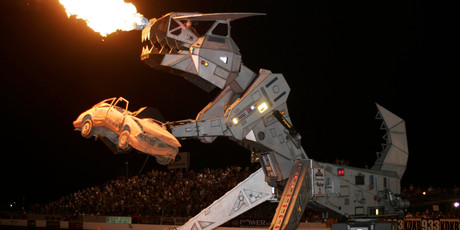 Well, if you have a place to store it in the USA or could face the freight bill to get it to NZ, then you are in luck, because a bloke in the States is selling just that.
In what is quite possibly the best listing to ever appear on Craigslist, a user in Denver, Colorado, is selling his "2002 Maibatsu Truckasaurus" for US$37,000 ($42,650) because he can't fit a child's carseat into it.
Packing a 373kW Cummins diesel engine, the Truckasaurus has been converted to run on "the souls of the damned" and is fairly thirsty returning just 3mps (miles per soul), but then, hey, who cares about the economy when you can eat cars?
The seller also answers a few questions he has been asked about the beast:
*It does have cupholders. There are two, one is sized for a 120oz Big Gulp, and the other will fit a tallboy perfectly. There is also a built-in Kegerator.
*Sadly, it is illegal to just pick up cars blocking your way and crush them. Apparently this isn't as Free of a country as I thought.
*The flamethrowers run on garden variety propane. It uses standard grill cylinders, so it's super cheap and easy to refill them.
*It's registered as a Truck, and I believe you *can* get Handicap tags on it.
*Unfortunately, it doesn't qualify for the Fuel-Efficient parking spots at Sprouts, but you can probably park there anyway. I guarantee nobody will try to stop you.
He says it is great for commuting, or if you just want a side business doing Monster Truck Shows and Bar Mitzvahs. Oh, and he will trade for a decent SUV or a hovercraft.
Sounds like a bargain to us!
The Grateful Deadstock
Cars and guitars have gone together nicely since they were both invented, so it makes sense someone started making guitar straps from old car upholstery.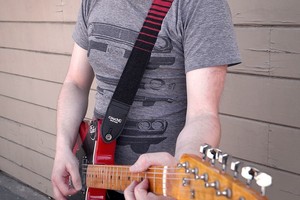 Okay, so that intro was one hell of a leap, but the fact is a US-based company called Couch makes a fantastic line of guitar straps, camera straps, wallets, shaving bags and other bits and pieces out of car "deadstock" - vintage vinyl and seating fabric that's no longer made and has been sitting around for years.
The material includes, among others, the vinyl used to line the boot of late 60s/early 70s Mustangs, the seat vinyl from the 1976-78 Jeep Cherokee and - our favourite - the seat fabric from the 1985 VW Golf GTi!
You can see their range (and buy it) on their website (www.couchguitarstraps.com) and it is awesome. And, yes, The Good Oil's credit card DID take a bit of a bashing. All in the interests of good research, you understand ...

Number Crunching
1.5 MILLION
The US dollar price of the Dartz Prombron Monaco Red Diamond Edition.
180 KM/H
The terrifying top speed of the Prombron.
6 LEVELS
The number of armour options available for the Prombron.
0 PEOPLE
The number of normal, well-adjusted people who have bought a Prombron.