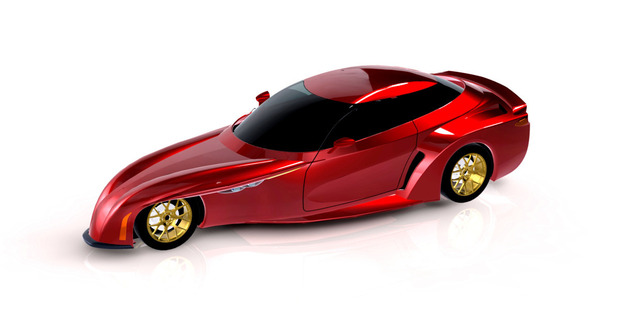 If you want the ultimate in fuel efficiency and a car that looks like a racing car, then you may find that your next car might have to look like this ... Sorry about that ...
While The Good Oil is rather excitable about anything to do with the DeltaWing racing car, we have to say we are not quite so sure of the renderings of the road-going version the company has just released.
Shorn of the racing car's wings and such, we aren't quite sure if we love the DeltaWing with the same passion. Or maybe it is the gold wheels and how they clash with our opinion that anyone who puts gold wheels on a car is a waste of perfectly good skin and organs.
Anyway, the company that now has absolutely nothing to do with Nissan unveiled the concept that shows just what a street-legal, four-passenger version of the DeltaWing would look like. The road car keeps the racing car's ultra-aerodynamic shape and uses the same light-weight materials and space-efficient packaging, leading the company to claim that it "can deliver any given performance level with significantly reduced fuel consumption and greenhouse gas emissions".
Which is all very fine and good if you care about those sorts of things, but here is the really interesting part -- DeltaWing say their current targets for the car are zero to 100km/h in around six seconds, a 210km/h top speed, and fuel consumption of 3.4L/100km from a small four-cylinder engine with somewhere between 63kW and 82kW. Which sounds pretty damn interesting to us.
So will they make it? Well, no they won't ...
They will, however, share the design and platform with major manufacturers for them to build. We doubt they will be all that interested, but, hey, nobody really thoughtthe DeltaWing would ever race, and yet ...
Banshee screams auto aggression on eBay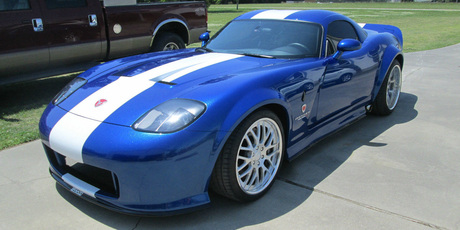 If you have ever played the video game Grand Theft Auto V then you're clearly not only a ticking time bomb and a psychopathic menace to society (don't worry, so is The Good Oil), but you're also likely to know the sublime sports car that is the Bravado Banshee.
The Banshee is GTA's version of the Dodge Viper (to avoid paying licensing fees) and is a powerful, front-engined V10 RWD piece of weapons-grade automotive aggression that is one of the cars you constantly look for in the game. So it comes as a shock that there is actually one single real version of the Banshee and it's for sale on eBay!
West Coast Customs built the one-off last year and it was given away in a competition by US games retailer GameStop. Based on a 2006 Dodge Viper SRT-10, the Banshee features unique exterior panels, a custom interior and a massive stereo.
The woman who won it would rather have the money to send her two children to college!
We are the world
*While you can probably reasonably expect any number of strange things to happen to you while you are driving in the US, being attacked by a sword-wielding elf is almost certainly not one of them. Although that is exactly what happened to a woman in Northeast Portland recently.
The woman was sitting at an intersection when a man dressed in chain mail with a helmet, shield and sword and staff ran into traffic and started attacking her car. Konrad Bass told officers that he was a "high elf engaged in battle with the evil Morgoth". Coincidentally he also told officers he had taken LSD.
*Beavers are typically industrious creatures with impressive building skills, especially for rodents, but in Russia it seems the beaver youth has taken on a more destructive bent. According to the BBC, the collapse of a busy stretch of road in the Sverdlovsk region of the Urals was the work of militant young beavers that had blocked a drainage pipe while building a dam as they "settle in new places" and not a structural fault in the pipe, as engineers first thought. And you thought your teenager's choice in music or haircut was rebellious...
Shanks's pony

In a rare turn of events, The Good Oil recently spent a week in Rarotonga on holiday. While this in itself may not be all that newsworthy (although we think it is ... ), something happened there during that time that is slightly unusual - we ran out of petrol.
Now, the use of the word "we" is not in the royal or editorial sense, and neither is it in the sense that we had a bunch of people in the car at the time. No, this time around the "we" actually refers to the entire island.
That is right, it is actually possible for the entire island of Rarotonga to run out of petrol.
While we in New Zealand sit back smugly, assured of our regular supply of petroleum distillate, the Cook Islands depends on shipments from New Zealand. When that ship is late, the entire nation goes without for anywhere from a few days to a week.
But here's the thing - while The Good Oil suffered the indignity of having to queue to put petrol in our crappy, pretty much knackered Toyota Ist rental car (a thoroughly hateful machine that went relatively peacefully in an anti-clockwise direction around the island, but fought you like a belligerent mule in the clockwise direction), we also thoroughly loved the good humour and relaxed attitude the wonderful people of Rarotonga greeted a situation that would throw New Zealanders into a frenzy of self-preservation, feral petrol acquisition and frantic finger-pointing.
"Stupid island. Runs out of petrol ... " a laughing customer quipped to the obvious tourist in the crappy Ist, while the attendant gave us the allotted $30 that everyone in line was getting. As someone who has worked in a NZ service station while there was absolutely no shortage of fuel, The Good Oil can safely say this was far from the response you would get here ...
Super Mario Merc ad goes super scary fast
Staying with the video game theme for a moment, Mercedes-Benz of Japan has just launched its advertising campaign for the new GLA that uses the much-loved game character Mario (Super Mario Bros, and Donkey Kong and many more), and it is possibly one of the most disturbing things seen on television.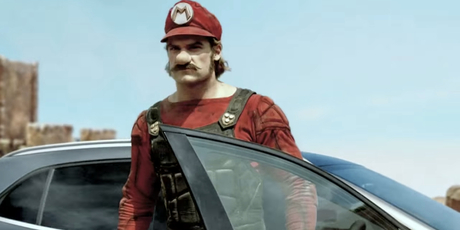 The ad starts out cute enough, with an 8-bit Mario driving a GLA through the first level of Super Mario Bros. Then things get unsettling when reality hits and a "real life" depiction of Mario climbs out of the car.
The Mercedes commercial uses a square-jawed, psycho killer-looking, male model with a fake nose, limp moustache and a mullet.
Would it make us buy a GLA? Probably not. Will we ever sleep again? Probably not.

Number Crunching
4470 CARS Number of registered cars and utes in the Cook Islands in 2010.
4849 MOTORBIKES The number of motorbikes and scooters in the Cook Islands in 2010.
2 FATALITIES The number of men (no women) killed in road crashes in the Cook Islands in 2010.
1 SCOOTER GANG Reported in the Cook Islands. Although we've gone home now...