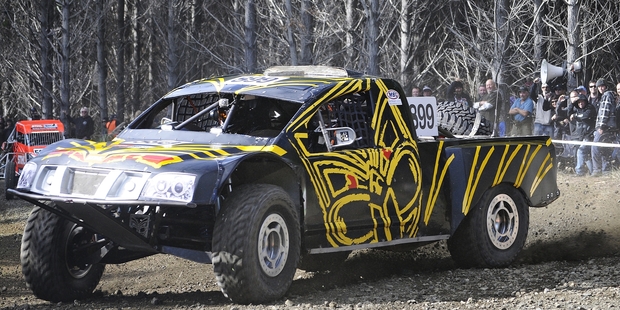 Offroad racing's big banger unlimited class race cars meet the tiny but quick UTV four wheel drives in Woodhill Forest this weekend for 250 kilometres of all-out high speed racing.
Ten or more unlimited-class cars - most of them V8 powered - will play 'Goliath' to the UTV 'Davids' the 34th Woodhill 100, New Zealand's fastest and toughest one day endurance race.
Race entries had exceeded 50 cars a week out from the event and organisers expect to see a grid of 60 or more on when the action starts at 11.00 am on Sunday 1June.
The Woodhill is open to cars complying with the 13 classes of car eligible for the national championship. These range from the diminutive Kiwitrucks used in the youth category all the way to 'anything goes' unlimited-class trucks and race cars.
The Polaris and Can Am UTV racers are a new arrival in the sport and Tauranga's Ben Thomasen (Polaris RZR 900) made his mark last year with pole position followed by runaway dominance in the opening laps.
The Woodhill is a 50-50 mix of gravel forest roads and rough sand tracks and every year attracts the top race drivers and teams. The course is plotted so that drivers go from fast 200 km/h roads into mud bogs or sand tracks that force them into first or second gear. The fastest race cars are likely to lap in an average speed of more than 120 km/h.
This year the race is set to be a battle between the unlimited-class V8 race trucks and cars of class one and eight and the tiny but potent 'UTV' class Polaris and Can Am race cars that have swept through the sport in the past two years.
Meanwhile, Albany's Raana Horan leads the race truck entries in his mighty Nissan Titan V8. Horan counts this race as his 'home' event and has won it twice. He was the first driver ever to win the Woodhill in a race truck.
Proudly carrying the Chevy flag are Ernie Hogg, multiple Woodhill 100 winner Tony McCall and Gregg Carrington-Hogg, all of them using Chev power.
Alan Hilliam from the Waikato is also racing in the unlimited class, running a Porsche flat six engine in his single-seat race car.
Phil Smart, Paul Sutton, Tony Radisich and Paeroa's Mike Small are the first entries in the UTV class.
Scrutineering and qualifying for the event will be held from noon on Saturday May 31 at the Steele family's sand quarry north of Kumeu; the race on Sunday June 1 is accessed off Trig Road north of Parakai. Racing starts at 9.30 am for the youth category and the main event starts at 11.00 am.
The Stihl Shop Woodhill 100 will also be filmed for TV3's CRC Motorsport programme.