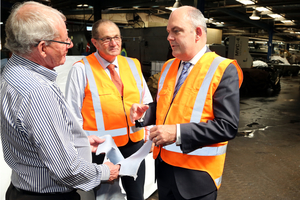 Economic Development Minister Steven Joyce has been in Wanganui checking how development dollars will be spent, including taking the ouch out of hot leather car seats.
Tasman Tanning has just been awarded a Callaghan Innovation grant which is awarded to companies which commit to spending at least $300,000 on research and development, or 1.5 per cent of revenue.
The funding will be used by Tasman Tanning to work on further developing cool leather for the car industry, which could mean substantial contracts with luxury European carmakers.
When Joyce visited Tasman Tanning he was taken through the plant by managing director Hunter Tait, who said the grant would give them 20 per cent of their research and development costs into cool leather.

Tasman has researched and developed dyes that could deflect UV rays on car upholstery by 14C. "All of this is with new technology from Europe."
Over the past couple of years Tasman has developed the cool leathers for Range Rover and Audi. In May, eight people from Mercedes-Benz will visit Wanganui to evaluate cool leather samples.