UK motoring writer Jamie Merrill updates his Facebook status - in a car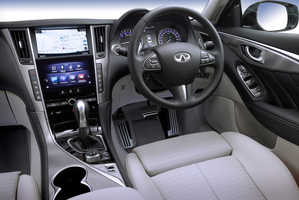 If you inhabit the mid-to-upper reaches of middle management and are lucky enough to be offered a company car, the chances are you'll covet a BMW 3 Series. Or perhaps an Audi A4.
Either way it will be German, solid, not particularly exciting to look at, but covetable by men of a certain age.
This, though, is the Infiniti Q50 - a nominee for World Car of the Year.
It's from Japan and and is Nissan's luxury car - sitting where Lexus does for Toyota.
But in the UK, Infiniti hopes that it will lure these corporate types out of their German wagons and into something a little different.
How do they intend to do this? With Twitter and Facebook, of course.
This car comes with Twitter and Facebook apps built in as standard, so, in theory, all drivers have to do is plug in their smartphone and they can tweet on the A303 and "like" statuses all the way down the M3.
As with many in-car entertainment systems, it wisely doesn't work on the go, but it raises an interesting question.
Last month it was reported some car owners were paying unscrupulous garages to hack their car's touch-screens and televisions so they could watch TV on the go.
But we do want our cars to be tapped into social media. And with the Q50 there's already a hitch.
If this car were a BMW the apps would work just fine, but they don't. Infiniti has gone for a complex two-screen set-up - both are tricky to use, and the bottom screen (which controls the apps) is infuriatingly slow and jerky. And while the Facebook app comes as standard, you'll have to fork out for a sat nav or for the media pack, which includes a proper digital radio.
To be fair to the Q50, it's pretty to look at and its Mercedes-Benz-sourced diesel engine is frugal and clean. It also feels different from its Germanic rivals.
But being different and staying "connected" wouldn't tempt me out of a BMW - if I were a middle manager, that is.
-Independent