There was no stopping the Keegans, writes Andy McGechan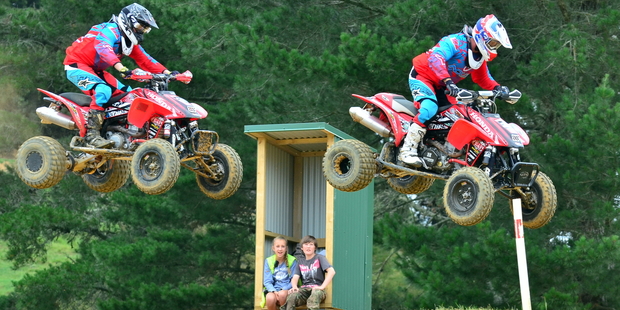 Stratford brothers Camo and Scott Keegan have blasted their way to the top of New Zealand quad bike racing in a phenomenal riding display.
The Taranaki pair finished eighth and sixth overall last season, but they were in a class all their own this time when they took their Honda TRX450R-model bikes to finish first and second at the top of the premier grade at the two-day New Zealand ATV Championships near Te Kuiti a week ago.
The only real threat to their positions came from each other, although Tauranga's Mark Goldstone (Yamaha) was always close enough to pounce if a mistake was made.
But Camo Keegan, in particular, doesn't make many mistakes. The 24-year-old mechanic won four of the seven premier grade races - and was runner-up in the other three - and backed that up by winning the lesser 750cc open expert class, this time riding a CanAm 450.
Auckland's Andrew Vincent (Yamaha) was runner-up in the 750cc open expert class, with another dual-class ironman, Goldstone, taking third spot on the podium.
Scott Keegan, a 22-year-old bricklayer, won the final three premier grade races of the weekend and that earned him the North Island title in the premier grade.
This is because there was double significance to the four races on day two (the Sunday), with points from those races being counted twice - Sunday's races constituted the North Island ATV Championships and also represented the final four of seven races to be tallied towards the national crown. "It was tough doing two classes," said Camo Keegan afterwards. "I was absolutely knackered at the end of the weekend. I played it a little safe on Sunday too because I knew I'd done enough to get the national title just by finishing second to Scott in those last few races.
"This is the first time I've won the nationals," Camo Keegan said. "It has been a pretty amazing season actually. I won the South Island Championships and the New Zealand TT Championships earlier this year, and now I've won the nationals.
"I've been training pretty hard. I think fitness is the key to winning."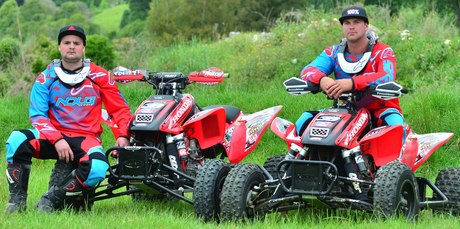 For multi-time former champion Ian Ffitch, of Amberley, his title bid was to last just one and a half races. When he discovered his after-market rear shock was leaking oil on the start line for race two on Saturday he quickly borrowed another bike - rival Camo Keegan generously offering up his spare for Ffitch to use - but Ffitch later withdrew from the race and opted to spend the rest of the weekend as a spectator.
"I didn't feel comfortable trying to push hard on someone else's bike," Ffitch said.
"If this happened before the last race of the weekend then maybe it would have been a different story.
"But, at this stage, I still had five or six races ahead of me. I just thought I'd save myself for another day."
Other winners were Warkworth's Ben Smith (Suzuki), who won the 450cc production class ahead of New Plymouth's Jack Burr (CanAm); Kaiwaka's Curtis Cullen (Yamaha), who won the 250cc junior production class ahead of Auckland's Lucas Burborough (Yamaha); Auckland's Craig Ridgley (KTM), who won the veterans' class ahead of Napier's Wade Taylor (CanAm); Rotorua's Emma Goldstone (Yamaha), who won the women's class ahead of Napier's Brittany Wealleans (Suzuki) and Massey's Kyle Chandler (Suzuki), who won the clubmans' class.