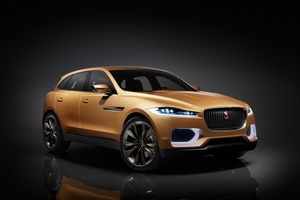 Jaguar has highlighted the versatility of its acclaimed C-X17 sports crossover concept vehicle with the debut of a luxurious five-seater version at the 2013 Guangzhou motor show in China.
The unique model, developed for China, features a bespoke ultra-luxury interior incorporating a range of new high-quality design elements in combination with innovative premium infotainment technology.
Introduced at the Frankfurt motor show in September, the C-X17 design study showcased Jaguar's all-new advanced aluminium monocoque architecture, on which an exciting range of future Jaguars will be built.
The modular and scalable vehicle architecture, engineered and developed for Jaguar, is high-strength, lightweight, extremely stiff and incorporates innovative efficiency technologies.
It enables flexible high-volume production while allowing creative design freedom and competitive interior packaging, without compromising the unique character, dynamics, performance and luxury that Jaguar is famous for.
"The luxury sports crossover represents an exciting new direction for Jaguar and highlights the promise and potential of our all-new, advanced aluminium architecture - a technical foundation which will enable a dramatic expansion of Jaguar's product range as well as its customer appeal," said Phil Popham, group marketing director at Jaguar Land Rover.
As a luxurious sports crossover, the latest C-X17 stretches the design possibilities of the segment by combining the character and driving experience of a luxury sports car with increased presence, style and flexibility. The concept represents the potential expansion of Jaguar's portfolio of body styles, with the associated enhancement of the brand's appeal to a global audience.