Driven's editor takes on Targa NZ from the sharp end in the new HSV Clubsport R8
Turning up at Kim Dotcom's palatial Coatesville spread for the ceremonial beginning of this year's Targa rally, it was heartening to see just how popular this type of event is in New Zealand. Around 1000 people turned up to check out the contenders - and the mansion.
Targa has been a fixture on the New Zealand motorsport calendar for 19 years - next year's event will be the huge 20th anniversary running - and it has given hundreds of car enthusiasts the chance to give their vehicles a workout on closed roads amongst like-minded people.
But it's not just the racing that makes Targa special. It's the people, the spirit and (in the immortal words of The Castle's Dennis Denuto) "It's the vibe."
A huge team provides support for Targa. The work that goes into keeping the event running like clockwork against the weather and other external factors, from school buses to grumpy farmers, is mammoth.
Targa director Peter Martin freely admits that without huge numbers of volunteers, as well as St John Ambulance staff, marshals and others it would be an impossible task.
"Volunteers are an essential part of Targa," he says, "and without them there is no way that an event like this can run smoothly. This is exactly why we recognise the communities that we go through and try to put as much back as we can. We want Targa to be as big a part of their year as it is of ours.
''The Targa is a travelling motor show that goes through 12 communities every day, and that brings with it over a million dollars a day that gets put into these towns.''
Targa recognises this with its passage points at schools, car washes run by community groups and other fundraising opportunities that directly benefit groups in towns that don't have anywhere near the scope to raise money that their urban counterparts do.
In numbers, it's impressive - 1500 volunteers help keep the wheels rolling, 26 councils assist in closing roads roads and keeping people aware of what's going on, and 156 officials put their safety and racing expertise into making sure it all runs on time and that spectators and participants get through the four days in one piece.
Everywhere we stopped the communities welcomed the Targa show with open arms and boundless enthusiasm. From kids selling us much-needed munches or washing our cars, to their Dads with the ear-to-ear grin that's worn by all real race fans with such high-quality machinery around, it was impressive to see that motorsport isn't always second to ball games.
But it's the people who make an event, and a quick stroll around service parks showed that while there is intense competition on the stages, this falls by the wayside when the keys are turned off.
When the day finishes it's a good yarn and a cold beer that bookends the ridiculously early starts - Targa and Rally NZ are among the few things that make 5am register on my alarm clock.
It's one of those things that I've always wanted to do, since its early days when I was editing Performance Car magazine, sharing an office with the old anoraks of Classic Car who were heavily involved in the rally.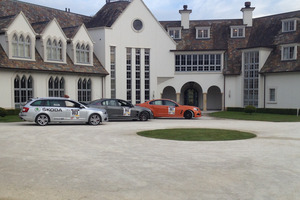 So when the offer of an HSV Clubsport R8 drive was made, the prospect of some hardcore motoring fun was impossible to resist.
Along with Targa campaigner and sometimes circuit racer Graeme Coley as co-driver, the brief was one of a fast promo/safety car.
Our job was to get through the stages quickly in the 001 HSV, following 002, a last-gen Clubsport driven by police driver training expert Devo The Copper, and 003 - a Skoda Octavia vRS driven by Racing Ray Williams. By the end of the event, the Skoda sticker on the back windscreen was modified to read `Yoda'. Not a bad call, the bloke is QUICK.
We weren't to drive at race pace, but we certainly weren't to be there when the full-pace safety cars came through. We were to keep an eye out for anything that could cause an
accident, like sheep on the road, cyclists who were very much in the wrong place at the wrong time - and get through the stage without wasting time, or the cars.
HSV New Zealand boss Andrew Lamb has provided safety vehicles for events for years but this bright orange R8, complete with the SV pack that lifts its power output to an impressive 340kW, is his personal car.
Sure, it gets put out on some light press duties, but at the end of the day, when a nice bloke like Andrew hands over the keys to his own car and sends you off for 2000km of
driving in four days - 650km of it on closed roads and at speed - there's a certain kind of fear when you push the starter.
Graeme was a great co-driver and it's a great car with a whole lot of safety gear onboard, but it was the prospect of ringing Andrew with bad news that really helped keep things
on the straight and narrow.
We're not talking soft roads here, from blind brows that tip into 90-degree corners before huge dropoffs, to fast esses that stack up one after the other, tight and twisty runs over dodgy surfaces - this has to be the best possible test for any performance road car. There was one moment at speed over a blind peak on the famous Gentle Annie near Taihape when the road was visible in the middle distance curling up the hill and seemingly the end target after what was surely a straight. No, it wasn't a straight, it was a hard left.
The big brakes came into their own.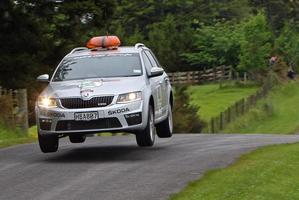 And when we ran the stopwatch built into the HSV's EDI interface on the last road stage of the day on Sunday - on a stage without much outright velocity involved - Graeme
and I were impressed to see the car was less than 30 seconds behind the front runners.
We did swap into the E3, last-generation Clubsport piloted by Devo the Copper for one quick stage. It was a manual six-speed, as opposed to our auto six-speed (obviously
shifted as a manual for the duration). Both cars share the same platform that was introduced in the Holden Commodore VE, although the new one, based on the current VF, has had extensive work done on drivetrain and suspension geometry.
But by the end of the stage, all I wanted was the General Lee back. The advances made on the chassis were chalk and cheese.
I remember HSV boss Phil Heatley tell me at the launch of the Gen F range that he was also surprised by just how much better the new chassis is.
The six-litre V8 ate up the stages, and to be fair drank up a fair quantity of premium unleaded. We won't put a number on it, because it's about as far from representative of daily driving as you'll get.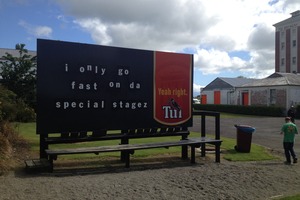 Co-driver Graeme, who has taken on Targa in a four-wheel-drive Audi racer, was quite disparaging at the start. Talk of V8 dinosaurs was common on days one and two.
But as the event wore on, the benefits of a comfy modern interior were certainly appreciated and there were a couple of surprisingly complimentary comments about the
chassis after long-legged stages that suited the whopping serving of torque that Holden Special Vehicles have dished up with the new car.

And Devo The Copper was banging on about getting back into the Gen F, and it was hard to blame him for wanting to.
Not as hard as handing over those keys, though, even when he waved his badge in my general direction.
It became very used to quick transitions through big sets of corners, and with the imodal
exhaust set wide open, the sound of a V8 bouncing around between 4000 and 6000rpm became a top ten hit in my book.
The interior improvements in not only technology, even the seats and the integration of the EDI system into the standard Commodore infotainment system, made the hundreds of touring kilometres very uninvasive.
The centre console's jog wheel selection between touring, sport and the most-valued performance made getting ready for stages quite easy.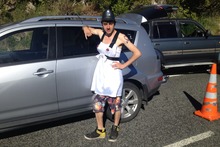 The driver, Matt someone, apparently kept forgetting to zero the trip meter, which did require some high-speed mathematics from the passenger seat, but the nav screen
proved a handy back-up a couple of times - even in the middle of nowhere.
In fact, the only beat that the Clubsport missed was speed of gear changes from the auto during stages with a lot corners. This, again, is probably not representative of daily drives, and it worked flawlessly on open road touring duties. If Targa-level driving is a normal part of your life, order the manual. If you're a bit more sane than that, the auto will suit better.
I may have to bring a set of ZR-rated 20-inch Continental tyres with me next time I visit HSV, but the sheer workout that car was put through over the four-day Targa was above and beyond what has been required by anything subjected to a press road test before in this country.
It is a big car, closing on 1700kg, and despite the narrowing market for large, powerful, sports sedans, the Clubbie has leapt up the list in my estimation.
For the money, it's most certainly proving its worth against more expensive European competition, and it was truly surprising how well it coped with its Targa beating.
As for the event itself, if you've been thinking about but still aren't sure, first give the Tour a go to see what it's all about.
The temptation to kick off a race car project as soon as you get back home on Sunday night is going to prove very, very hard to ignore.
Major winners from this year's Targa:
Overall
1. Martin Dippie/Jona Grant (2007 Porsche GT3 RS) 04:54.19
2. David Rogers/Aidan Kelly (2009 Mitsubishi Evo X RS) 04:59:17
3. Brian Green/Fleur Pedersen 2010 Mitsubishi Lancer Evo X RS) 05:00:05
4. Steven Kirk-Burnnand/Elliot Kirk Burnnand (1997 BMW E36 Compact) 05:01:16
5. Gary Murphy/James Bell (1993 BMW M3) 05:01:18
6. Barry Kirk-Burnnand/Dave O'Carroll (BMW M3) 5:02.03
Allcomers 4WD
1. Rogers/Kelly
2. Green/Fleur Pedersen
3. Inkster/Winn
Metalman Classic 2WD
1. Barry Kirk-Burnnand/Dave O'Carroll(1989 BMW M3) 05:02:30
2. Bevan Claridge/Jason Easton (1992 Holden Commodore) 05:05:10
3. Carl Kirk-Burnnand/Sam Gordon (1991 BMW 325i) 05:06:34
Instra.com 2WD
1. Dippie/Grant
2. Steven Kirk-Burnnand/Elliot Kirk Burnnand
3. Murphy/Bell
For more results see targa.trackit.co.nz