Scott Dixon reflects on why he was the 'comeback kid' this season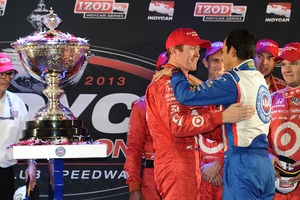 New Zealand IndyCar driver Scott Dixon has had nearly a week to reflect on winning his third IRL title and the somewhat up and down season that saw him persevere through the bad times and savour the good times.
Heading into the final race of the season, Dixon needed to finish fifth or better to win the championship and that's exactly what he did in the MAVTV 500 on Sunday afternoon (New Zealand time) at the Auto Club Speedway, Fontana, California. He eventually pipped title contender Helio Castroneves by 27 points, who finished the race a lap down after needing to pit to repair a broken front wing. Dixon has edged Castroneves for all three of his IRL titles.
"The race was actually a month later this year than last time and it was a bit cooler and we had overheating issues last year," said Dixon.
"They had done some track grinding earlier and the grit must have got into the radiators as most of the cars had overheating problems.
"The attrition rate was high with only nine cars running at the end and five on the lead lap.
"Towards the end, I heard over the radio 'pit, pit, pit' and I thought the engine must be about to blow up. I thought we were done then.
"I didn't know Helio had gone a lap down because no one had told me, and then for the yellow to come out I thought 'bloody hell, how lucky is that?' The race was fantastic and it was a great show and I hope everyone liked it."
It's always good for the fans when a championship goes down to the last race of the season and everything hangs in the balance.
Spare a thought, though, for the drivers who have been going hammer and tongs all year long to try and get a bit of a gap on the chasing pack so everything doesn't hinge on the very last race.
At one stage in the 2013 season, Dixon was sitting back in eighth after the Indianapolis 500. He then had a few good races and, at Iowa, it looked like his first win was on the cards until an electrical problem put paid to that and he finished 16th.
"At that point, I thought we didn't have any chance of the title and would be pleased with a top five finish," said Dixon.
Never one to give up, Dixon and the Target Chip Ganassi Racing crew knuckled down and almost ground the series into capitulation to end up on top of the heap and give Honda their ninth title in 10 years.
"After Helio and Penske jumped out to their lead, I think they started to think too conservatively and just think about getting points. When you start winning, you jump up the table pretty quickly and that's what we did.
"Man, it's been a long season. You look back at so many races where it could have been different. It's nice when it comes down to the last race and you get it [the championship title] and it feels great.
"However, you definitely go through the season hoping you might have everything tied up before the last. The reality of it though was the season was up and down and we had to wait until the last race," said Dixon.
Next year, it's all change for the Ganassi team as they have done a deal to switch to the Chevy engine, which will bring a whole new set of challenges for Dixon and the crew, something he's looking forward to.
Dixon and his team will start their testing with Chevy next month.