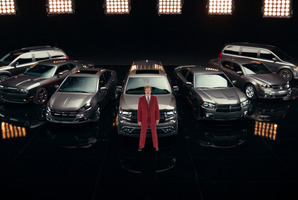 When Chrysler unveiled four short YouTube videos featuring fictional 1970s news legend Ron Burgundy (Will Ferrell) no one - apart from Dodge and Ferrell - had any idea that this was the tip of a very large iceberg.
Recently, it became known Ferrell recorded 70 of the short spots for the Durango - some for TV, some for the internet and some Vines (six-second videos).
Chrysler plans to continue releasing the spots a few at a time, with around eight available on YouTube at the time of writing. And most impressively, according to Automotive News, the videos released so far have attracted more than 2.7 million views since the first one was released on October 5.
The idea to get Ferrell to promote a car in-character as Burgundy originally began when Fiat North American brand head Tim Kuniskis proposed Burgundy as a spokesman for the Fiat 500L (reasoning they were both "kind of a big deal") to Fiat Chrysler CMO Olivier Francois.
The idea didn't go any further until Francois actually saw the Anchorman film and then discovered a sequel was in the works. He then decided to use the opportunity to do a combined promotion for the Durango and the sequel, Anchorman 2.
Thus, some of the best car ads in recent memory were born.
Check them out at youtube.com/user/dodge
We are the world
* A man was pulled over by police in Birmingham, England, for an
undisclosed infraction. This is not unusual in itself, but what was unusual was the discovery by police that the man did not hold a driver's licence and hadn't for more than 40 years. Police say they have no idea if he has ever passed a driver's test, or how he drove for so long without being discovered ...
* A man in Long Island, New York, was arrested after a 10-day manhunt to find the person who stole an ambulance and took it for a joyride. And it was his beer that turned him in. Salvatore Brecciano, 46, is alleged to have stumbled across an unattended ambulance and decided to take it for a spin before abandoning it almost 5km away. Unfortunately for him, he left his beer next to where he had taken the ambulance. Police traced it back to a nearby store and security camera footage soon identified him.
* A hotelier in Paris became suspicious of a pair of Chinese guests who were paying all their bills with 1Euro coins, so called the police suspecting they were counterfeiters. They weren't, they were just friends with a car wrecker who specialised in European cars. Thousands of European cars are shipped to China for wrecking every year and the most common valuables left inside them are 1Euro coins.
Vandemonium in Vegas
The SEMA Show, held in the first week of November in Las Vegas every year, always attracts wild aftermarket concepts from US car manufacturers, but this year Ford is going all out for the aftermarket equipment show by unleashing 57 customised cars, trucks and vans for the event.
Ford will take up 2500sq m of space for its display inside the Las Vegas Convention Centre, while also taking up a further 9000sq m outside for racing displays and demonstrations, including ride sessions offered for the Fiesta ST and F-150 SVT Raptor used at Ford-sponsored racing schools.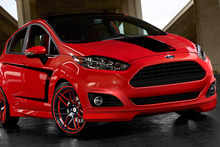 Inside, the Ford exhibit will feature modified versions of Ford's most popular models, including Fiesta (pictured), Focus, Fusion, Mustang, F-150 and Super Duty, as well as featuring ''Vandemonium'' 10 Transit Connect vans treated as blank canvases by aftermarket tuners to illustrate, according to Ford, ''the vehicle's use beyond family or commercial transportation''.
The modifications on show incorporate ''a functionality that captures the spirit of Transit
Connect'', including creating a mobile boutique working bike shop.
Leading up to the show, Ford will release other renderings of SEMA project vehicles in Dreamcase, a digital display. You can check them out at ford.to/1cwVX6y
Thinking on wheels
What do you get if you combine slot cars with video games and throw in a touch of artificial intelligence for good measure? Well, previously it would just be an awful slot car video game, but thanks to some clever people and a Hollywood movie car designer, we now get an awesome real-world racing game.
Anki Drive is a slot car racing game (except without the slots) that uses artificial intelligence and machine learning so the cars actually learn how to beat each other on the
track. The set is made up of three components: a track mat, a car and an iOS app.
The mat contains a special positional code that tells the car where it is in relation to the track and other vehicles, while each car has a small camera which reads and translate the information, sending it via Bluetooth to the iOS app.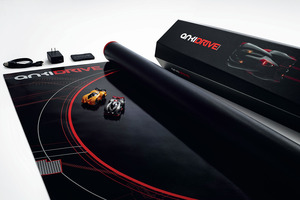 The iOS app allows the player to steer the vehicle and fire weapons, but also lets you build a character for each car. With the information gathered from the track and the
position of the opponents, the cars are able to determine, usually within a few thousandths of a second, whether to pass, block or even nudge their opponents. But these are not pre-programmed movements, this is the AI determining the parameters and then thinking on its own.
Available through the Apple Store and from Anki's website (only in the US) for US$199 ($233), the basic set comes with the mat and two cars, with the app available to download from iTunes.
Two more cars are available for purchase at US$69 each, with each featuring different characteristics that can be permanently upgraded using rewards won during racing.
Reality to imitate art - James Bond style
Remember awhile ago when the submersible Lotus Esprit that featured in the James Bond movie The Spy Who Loved Me sold at auction to a ''mystery buyer'' for $1.1 million?
Well, it now turns out that ''mystery buyer'' was none other than the man with a Bond villain name and a taste for grand schemes - Tesla Motors boss Elon Musk (below).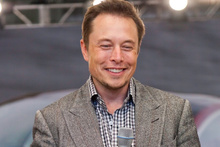 But it gets even more Bondian with the recent revelation of what Musk actually wants to do with the car. Like the rest of us who were impressionable young children at the time the film came out, Musk was immensely impressed by the car that turned into a submarine, and equally disappointed when he found out it was all just movie magic.
But unlike the rest of us, Musk is a billionaire genius and so can actually do something about it. ''It was amazing as a little kid in South Africa to watch James Bond in The Spy Who Loved Me drive his Lotus Esprit off a pier, press a button and have it transform into a submarine underwater.
''I was disappointed to learn that it can't actually transform. What I'm going to do is ugrade it with a Tesla electric powertrain and try to make it transform for real.''
Yup, that's right. Musk wants to make a real submarine car from a pretend one.
The Good Oil hopes he wants to include working torpedoes as well. If not, why bother?'
Number Crunching
3000 PEOPLE The attendance at the first SEMA show in 1967, with five cars on display.
100,000 PEOPLE The attendance at the 2012 show, with more than 2200 cars on display.
2000 PEOPLE The media attendance at the 2012 show.
0 PEOPLE The number of general public attendees. SEMA is a trade-only show.