Prospect of glory in the dirt draws the best riders to Tokoroa this weekend, writes Andy McGechan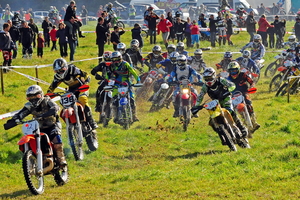 If there is one piece of silverware coveted most by the Kiwi dirt bike fraternity, it is probably the trophy for winning outright at the big annual Suzuki Six-Hour Dirt Bike Challenge.
The popular stand-alone event, set this year for Saturday, October 5, typically attracts the cream of New Zealand's off-road motorcycling community. Kiwi international stars and national champions from many of the various biking codes - including cross-country racers, enduro experts, moto trials exponents, motocross heroes and even road-racing legends - come to compete.
This year's event near Tokoroa will be no exception with an abundance of "star" riders expressing a keen interest, perhaps none more so than the teenage pairing of Josh Jack and Luke Mobberley.
Kaukapakapa's Jack, aged 19, and 15-year-old Muriwai Beach rider Mobberley will team up to tackle this gruelling race for the first time this year, but even as rookies at the Suzuki Six-Hour they already rate among the favourites.
Jack and Mobberley partnered up to win round one of the Woodhill Two-man Series in July and then proved it was no fluke when they repeated it, dominating round two last month.
Now they will team up again - either on Jack's Colemans BikesportNZ.com Suzuki RM-Z250 or a Suzuki RM250 two-stroke - to see if they can pull off another stunner.
"I raced the Acerbis Four-Hour at Taupo, teamed with [Te Awamutu's] Mark Penny, and we finished runners-up, so I certainly know I'm capable of lasting longer races," said Jack.
"I have dropped out of the sport for a few months because of work commitments but, interestingly, I've come back to racing now with a new energy and feeling a lot fresher.
"My fitness is good. My rugby team, in which I play blindside flanker, recently won the North Harbour Under-20 Rugby Series. Let's hope I can blindside a few of these bike guys now," he laughed.
Despite their star rating, Jack and Mobberley will come up against some heavyweight opposition, including three-time former and current national cross-country champion Adrian Smith of Mokau. He's expected to join forces with fellow BikesportNZ.com rider Callan May, of Titirangi, and Auckland's former national enduro champion Chris Power, who will team up with Palmerston North's three-time former national cross-country champion Adam Reeves.
Whangamata's former national enduro champion Jason Davis, Te Awamutu's Kevin Archer, Tauranga's Reece Burgess and Auckland mates Freddie Milford-Cottam and Mike Skinner are also among those expected to feature at the front.
Instead of riding solo, as an ironman, Taupo's Brad Groombridge will this year co-ride a Suzuki RM-Z450 with multi-time former national motocross champion Daryl Hurley, a previous outright winner of the Suzuki Six-Hour.
Also worth watching are Suzuki teammates Darryl August, of Taupo, and Manawatu's Gordy Brooker, who will partner up in the veterans' class.