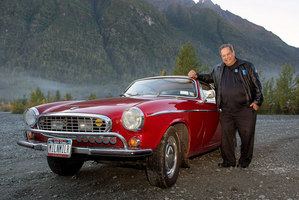 New York resident Irv Gordon and his 1966 Volvo 1800S, have finally reached their phenomenal goal of hitting the three million mile mark (4,828,032 km), the same distance as 120 laps around the world.
They did it near the village of Hope, on the Seward Highway, south of Anchorage in the state of Alaska; the one remaining state where Irv and his famous car had not been together until now.
At 4.00pm on 18 September, the meter ticked over, indicating that Irv and his Volvo had finally achieved those dreamed-of three million miles that they set out to reach many years ago.
Irv Gordon bought his Volvo 1800S on a Friday back in 1966 and immediately fell in love. He simply couldn't stop driving the car, it was a holiday weekend and brought the car back to the dealership the following Monday for its 1,500-mile service.
With a 125-mile (201 km) round-trip daily commute, a fanatical dedication to vehicle maintenance and a passion for driving, Gordon logged 500,000 miles (804,672 km) in 10 years.
In 1987, he celebrated his one-millionth mile driving a loop around the Tavern on the Green in Central Park and in 2002, he drove the car's two-millionth mile down Times Square to international media attention. Since then, Gordon has broken his record every time he drives his celebrated car.