Kiwi may be involved as team returns to WRC, writes Liz Dobson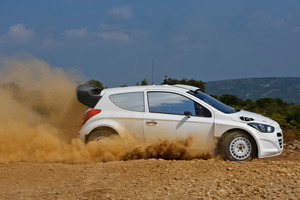 Hyundai New Zealand's boss is pushing for Kiwi rally star Hayden Paddon to be part of the team when the Korean brand re-enters the WRC next season.
After a 10-year absence, Hyundai will make its first competitive appearance at the Monte Carlo rally in January next year.
Hyundai Motorsport is currently testing its revamped i20 hatchback (pictured) at its new centre at the Nurburgring circuit, with engineers assisting the team at the Namyang R&D centre just out of Seoul.
Currently Hyundai is using development drivers Chris Atkinson, Juho Hanninen and Bryan Bouffier with Michel Nandan as team principal.
At a visit to the Namyang last week, Hyundai NZ general manager Andy Sinclair told Driven that he had approached his Korean bosses to have Paddon as part of the driving team next season.
"We think Hayden Paddon is exceptionally fast, he's young and he epitomises all that's good about sport," said Sinclair.
"Hyundai still hasn't decided their final drivers' list, and if he produces the results, that will enhance his claim."
There is talk whether the company goes for a "name" for the team next season or for a driver who will be producing wins for Hyundai.
If, as expected, Paddon wins the Rally of Australia next week it would help promote the young driver to Hyundai Motorsport.
Driven was taken for a two-minute ride at Namyang in the WRC i20 that was debuted at the Paris motor show.
The car was number two in the WRC production line and since then the engine has changed, a source told Driven, with version number nine currently being tested in Germany.
The car has a 1.6-litre GDi turbo engine, with a top speed of 200km/h with 0-100km/hr in just four seconds on gravel.
In wet conditions at the secret R&D track, the four-wheel-drive car showed dynamic handling and hit a top speed of 140km/h with ease.