V8 sprint leader has never raced on the long circuit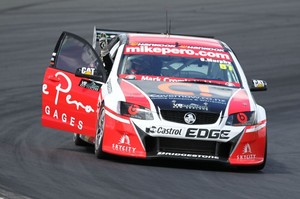 The race for the sprint championship category in the V8 SuperTourers series has turned into a two-horse affair between Greg Murphy and Ant Pedersen with the title to be decided over three races at Taupo Motorsport Park this Sunday.
Murphy leads on 1840 points from find of the season Pedersen, with 1632 points, and V8 Supercars driver Shane van Gisbergen hovering back in third on 1394. The four-time Bathurst winner will be at a slight disadvantage over the weekend as he's not raced on the reconfigured Taupo track. "It's absolutely true, I have never raced on the long Taupo circuit and it's something I am really looking forward to," said Murphy.
"At this stage of my career getting to compete on a new race track on home soil feels a bit weird."
Last season he missed the Taupo race during rehabilitation from back surgery but mentored young guns Jack Perkins and Nick Cassidy to an impressive debut.
"I'm under no illusions that winning the BNT V8 SuperTourer Sprint Series on a circuit that is new to me is going to add to the challenge, but I've got some really good data from last year to analyse and help me get up to speed.
"I reckon there's more than a few guys who could win at Taupo and take points away from me, so keeping out of trouble will be priority number one."
Pedersen has been something of a revelation this year. He won the feature race at the first V8 SuperTourer meeting at Hampton Downs in 2012, but after that was unable to string together a championship challenge for International Motorsport.
This season, however, it's been a different story. This year Pedersen has been very competitive at Hampton Downs (pole position), Powerbuilt Tools Raceway, Ruapuna and Pukekohe.
"It's definitely a good spot to be in heading into a final," said Team Manager Nick Williamson. "The pressure is on Greg not us."
Pedersen, a 25-year-old second-generation racer has been a real quiet achiever this season qualifying on pole twice as well as claiming a victory in the final race at Ruapuna in March. He's also ticked off top-six finishes in all but one of the other eight races held so far. He won't be without relevant recent seat-time at Taupo either having accepted a last minute offer from the Eggleston Motorsport team to compete in Australia's Dunlop V8 (Development) series at Winton last weekend. Van Gisbergen is an outside chance of winning the sprint title after a near faultless round-winning performance in the challenging conditions of Pukekohe. The V8 Supercar star seems now to be fully up to speed in his SuperTourer.
"We were just flat all the way and you can't do that in a Supercar. The car's good under brakes and the tyre gives you confidence to brake late," said van Gisbergen.
Not expecting to race the remaining sprint races due to the return of Andrew Waite to the Tasman Motorsports Group, Daniel Gaunt has been given a chance to improve his fourth place on the table.
He'll be driving Craig Baird's car, as he will be busy racing a Ferrari in the Sepang 12 Hour in Malaysia.
The final sprint round at Taupo has practice and qualifying (two sessions) on Saturday and three races on Sunday. The first is over 14 laps starting at 10.35am, the second over 18 laps starting at 1.10pm and the third covers 28 laps with a projected start time of 3.45pm.
Points
1. Greg Murphy 1840
2. Ant Pedersen 1632
3. Shane van Gisbergen 1394
4. Daniel Gaunt 1335
5. Richard Moore 1042
6. Andre Heimgartner 1014
7. Paul Manuell 940