The latest entry in the crowded hatchback space simply blows the rest away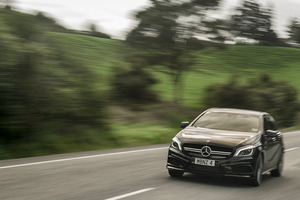 Call it witchcraft, sorcery or just plain stupidity, Mercedes-Benz' tuning arm AMG has just taken the already lush hot hatch battleground and turned it on its head.
We've seen a huge line-up of wildly capable hatchbacks hit the market within the last year, and while some of these contenders are impressively quick, the go-fast version of the little A-Class is set to leave them choking on its dust.
Unlike most others in this serious shopping basket category, the A 45 AMG is all-wheel drive when it needs to be and is such a little rocketship that it can sprint to 100km/h in 4.6 seconds.
This level of performance is something that those familiar with the AMG range can understand. The engineers at the noisy end of the Benz research and development department have a habit of shoehorning large V8 engines into sedans that really don't need them. But this is the first time that it has tackled a small four-cylinder engine, and it has excelled itself - managing to crank a mind-boggling 265kW and 450Nm from a 2-litre turbo engine.
It wasn't that long ago that you'd be bolting blowers on to sixes and eights to see numbers like that. Even the new A-Class that launched this year is a hugely capable hatch, especially its A 250 Sport derivative with its 155kW two-litre. One can only assume that there's been some sort of black magic going on at AMG.
Putting this level of power down on the ground is also something that shouldn't have been possible in a hatchback - even with the 4MATIC drive system, which drives the front wheels all of the time, and only adds the rear drive when traction needs demand it. This is obviously a fairly regular requirement, because keeping such a short-wheelbase vehicle on the straight and narrow with almost any level of enthusiasm means it needs all the help it can get.
We were really looking forward to driving the A 45 - and its upcoming CLA 45 brethren - mainly to see if it could actually work as an effective hot hatch or would be borderline undriveable.
It not only works, it excels. Grip to the 19-inch wheels is massive, even on wet roads, and given a good surface and a dry track there's not much that'll be able to touch it point to point. In fact, with a 270km/h top speed, there's not much that'll be able to touch it, unless you're spending huge money.
If a little sleeper hatchback is what turns your wheels, even BMW's M135i will be picking bits of bitumen out of its teeth.
Of course, with the four-paw layout, there have been some very significant changes made to accommodate the more complex drive system. Its multilink rear suspension is entirely new, and the clutch to unleash the rear wheels is mounted by the rear diff to enable this all to happen, and to help balance the car's weight. Anti-roll bars, springs, dampers and steering knuckles are all AMG versions, as well as the fixed-ratio steering rack.
It uses AMG's Speedshift version of the dual-clutch seven-speed automatic, which is more than quick enough on upshifts to suit aggressive driving, but occasionally disallows downshifts when the excitement levels surpass engineering realities.
In true AMG fashion, the A 45 is hardly what you'd label a comfortable ride. With comfort sport and manual mode settings selected via a small switch next to the stumpy wee gear selector, comfort simply means slightly less solid.
A push of the traction control button enables a less-invasive sports handling mode, while holding that button down puts even more control in your hands. A nice trick is when you select sports handling and manual mode and pull back both of the aluminium paddle shifters at once - hello, launch control.
While this does let the car take off like a fart in a hurricane, it does have one drawback - it gives the already stroppy soundtrack a big serve of rowdy. Under normal throttle the 2-litre is reasonably subdued - lift off and it'll cackle, shift up under full acceleration and you get a barrage of firecrackers, rally car style, as it picks the next cog. Launch control loads up the turbo, and these crackers get to pro pyro grade which will undoubtedly draw unwanted attention your way.
While the outside only really gives away the AMG lineage with its badging, monstrous 235-wide feet and the upgraded front with its big intercooler, the inside screams performance.
Impressive leather race seats with solid backs still carry all of the prerequisite electric adjustment functions, red leather stitching is everywhere and the stunning carbon fibre dash is only spoiled by its large centrally-mounted screen. One big plus is concave scalloping on the backs of the seats, which increases already ample legroom for those passengers brave enough to venture into the second row.
Staggering as the pace of the A 45 may be, it is still allegedly capable of 6.9L/100km and 161g/km of CO2 when its eco mode's stop/start functionality is on. Apologies that we can't vouch for that, but when you're in a car as dynamic and rapid as this for a reasonably short time, any moment without the most serious set-up is basically wasted. At one point the fuel readout was over 20L/100km - a figure only beaten recently by another of AMG's monsters, the G 63 seven seater, which really does get a beaming smile from service station managers when you pull on to the forecourt.
At $94,900, this is certainly not a bargain-basement hatch - considering that the base model is under $45,000 and the A 250 is $64,900.
Finding this sort of performance for less, on the other hand, is not going to be easy. It'll beat every hatchback on the planet, and is capable of putting $200,000-plus beasts in their place. It's different, it's small, but it has also totally redefined the term hot hatch.
Whatever sort of deal with the devil has been done by Mercedes-Benz to get this to not only work, but to work incredibly well, was well worth it.

Follow us on Facebook: www.facebook.com/DrivenNZ