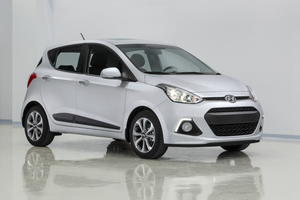 Hyundai Motor Europe has released the first picture of its next generation i10, the company's new European A-segment car.
Appearing five years after its predecessor, the i10 has automatic climate control, a heated leather steering wheel and cruise control with speed limiter to provide bigger-car comfort.
Safety features include stability control and front curtain airbags.
Longer, wider and lower than its predecessor, the i10 provides best-in-class legroom and cargo capacity.
The i10 is based on an all-new platform featuring a wheelbase 5mm longer than its predecessor and relocated rear dampers that give more precise wheel control.
The car will make its first appearance at the Frankfurt motor show next month.