Kiwi drivers fight their way back after some bad luck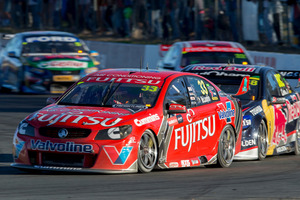 Lots of New Zealanders saw action in motorsport at the weekend. Many tasted some damn good success, while others suffered the bad luck that goes hand-in-hand with success in motor racing.
GP3 driver Mitch Evans' pendulum of success swung all the way back to the positive side at the Hungarian Grand Prix where, in race two, he picked up another podium finish.
The Kiwi didn't have the best qualifying run, having to settle for 12th on the grid. He hooked up well when the lights went out, picking up a few places. But he was tagged by Stefano Coletti, necessitating an early pit stop.
The Aucklander was soon back into the fray and clawed his way back through the field to finish seventh.
"After an average qualifying I had a solid start from 12th," said Evans. "I made it up to seventh with the potential of moving forward but I wanted to hold position to be on the front row for race two."
Evans took advantage of his second spot on the grid and slotted in behind pole-sitter Nathanael Burton, driving maturely to tick off his third podium of the season.
"It's been a long time coming since my last one because we have had a really good pace at Silverstone and Germany but a lot of things have stopped us from getting those results.
"The team have done a really good job since our last podium in Monaco but things have not gone our way. Today we really deserved this result. I was really hoping for the win, but Nat was just too quick.
"Hopefully we can get some more podiums and decent points in the coming races."
Evans has moved up to 10th in the championship and the GP2 series now has a break before arriving at the Spa Francorchamps, Belgium, for round eight from August 23 to 25.
Great Scott
At the Ipswich 360 round for the V8 Supercars series this weekend, 20-year-old Scott McLaughlin showed everyone who knows a bit about V8 racing, that his first win at Pukekohe was no fluke.
The Kiwi rocket-man held off a hard-charging Jamie Whincup for the entire second race to stand on top of the podium.
Fellow Kiwi Fabian Coulthard was looking good for at least a podium in race one after qualifying third and was on a charge when an incident started by Craig Lowndes saw Coulthard punted on to the dirt. A great save meant Coulthard got the car back on the black stuff and raced home in 11th place.
He backed that up with a fighting fourth in race two and a fifth in race three. The third of the New Zealanders, Shane van Gisbergen, struggled at the Queensland track and could manage only 12th, 17th and 11th to slip to seventh. Coulthard has moved into fifth and McLaughlin is 11th.
Whincup made up for his disappointing outing in Townsville with a win, a second and a 25th to lead the championship from Lowndes and Will Davison.
Spa 24 Hour
American-based New Zealand racing driver Matt Halliday has come away from his debut appearance in the Total 24 Hours of Spa race with an upbeat attitude despite his disappointment at not finishing the endurance classic.
Paired with Nikolaus Mayr-Melnhof and Rahel Frey in an Audi R8 LMS Ultra GT3 as part of the Belgian Audi Club Team WRT, Halliday qualified their car in 35th despite his setting only the ninth fastest time in night-time qualifying. After making a superb start and passing several cars on the opening lap, the trio battled their way up to 14th after seven hours. Then Mayr-Melnhof was hit by another car, resulting in a long pit stop.
Another fight back saw the car back in 26th place before a punctured tyre caused Halliday to spear off the track on the high-speed Eau Rouge corner.
Unfortunately, with damage too severe to continue, the car was withdrawn from the race.
Hartley's Grand Prix
Sportscar driver Brendon Hartley continues to impress on both sides of the Atlantic in prototype racing. Last weekend he was at the Indianapolis Motor Speedway for round seven of the Rolex Grand Am endurance series.
Hartley and his co-drivers qualified in eighth but were soon at the pointy end of the field until the exhaust manifold fractured, robbing the car of 50bhp.
Hartley stuck with the bellowing car and managed to get up to fourth place, which he grimly clung on to. The valuable points gained has moved the New Zealander to No9.
Porsche Supercup
Not a good day in the support class for the Hungarian Formula One Grand Prix. Regular series contestant Richie Stanaway had his best qualifying effort to start the race in third with fellow Kiwi Earl Bamber, in a one-off guest appearance, starting at ninth after being held up on his flying lap.
Stanaway's race was over before it really got started, being spun by an out-of-control Michael Ammermuller and then collected by most of the rest of the field as they streamed through turn one. Bamber managed to come home in 15th.