Car love affair consummated 42 years on, writes Jacqui Madelin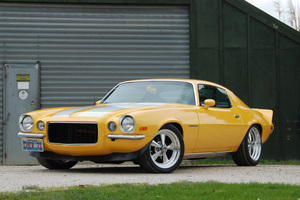 When Todd McDonald falls in love, he falls hard. "When I was 17, I visited Chevron Motor Court in Dunedin and there was a red-and-black 1971 Z28 Camaro in the showroom. I fell in love with it and I've wanted one since."
He got on with life - married, had kids and worked his way up the corporate ladder - but he never forgot that car, and eventually commissioned a US specialist to look for "an RS or a Z28 in good body condition".
The search took six months, and his red-and-white 1971 Chevrolet Camaro Rally Sport arrived in New Zealand in 2007.
The Camaro was first launched in 1966 as a muscle-car rival to Ford's Mustang and shared its platform with the Pontiac Firebird. There were four generations before production finished in 2002, although a modern Camaro was launched in 2009.
But this is the first of the second generation, powered by a 350ci Chevrolet V8 - that's 5.7 litres in the new money, a crate motor, so it's not matching numbers, with a three-speed auto transmission and 650 Edelbrock carb.
Initially, McDonald drove it as is, until commencing a restoration project that's still under way.
"I took it back to bare metal - and, surprisingly, there was no rust anywhere, not even round the windscreen, the typical areas you find issues. There was a small repair in the left front guard and that was it."
He picked the Lamborghini yellow paint as "it's always been my favourite colour".
And McDonald's father would be proud. "The Lamborghini Countach was Dad's dream car, and this one's symbolic of my father, I guess. He designed power boats, and I can always remember him designing and building them, they all had strong lines and it's the lines of this car I enjoy."
Sitting in the car on the impressively comfortable black leather seats, McDonald fires the mighty powerplant into life and that potent growl is a back-note to our conversation.
When the car arrived, its front springs had sagged and the front cross-member bottomed out at every pothole. So the suspension's been upgraded, with original bushes but heavier duty front King springs and new shocks all round.
"I fitted a new exhaust, with ceramic headers and a complete new system to the rear, for performance and sound."
McDonald puts his foot down and a pack of angry Rottweilers couldn't sound nastier but he has that thousand-yard stare going; he does love this car. It's his first classic and probably his last. "It's everything I want," he says.
It's an ongoing project, though. He's done the body and mechanicals, and he's working on the cabin.
He wants to keep it relatively original so he'll keep the seats, its 150mph (241km/h) speedo and air con but there's a new dash and radio, plus he's added his first Momo steering wheel which he had in a Series 1 RX-7 he used to race.
He sold the 14-inch wheels when he bought the Cragars - 17-by-eight inches up front and 18-by-10 at the back.
Todd outsourced the body repairs but is doing most of the rest himself; after all it's a family car for his wife and two kids - aged 11 and 10.
"It's in regular use - we've taken it to Tauranga, on a single 72-litre tank of petrol for the trip and we've been to Beach Hop in it as a spectator."
Those plates aren't the originals - he had a personalised plate, then contacted DMV in Nevada, where the car spent its early life, and they provided him with the same one "made by the inmates of a Nevada prison".
As Kia Motors NZ's general manager, McDonald had a bright green Kia Koup as his work car for a while, replaced by an eye-catching matte black Kia Soul.
But they couldn't match the Camaro for power, and he plans to fettle its drivetrain for more. "You can never have enough."