The age-old dilemma - must be easy on fuel but have some grunt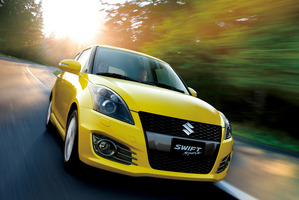 The dilemma: Maree is often driving long distances for work - from Napier to Hamilton, Auckland and Palmerston North - so her BMW is becoming too expensive to run.
"I am looking for an economical, smallish car with a 1.6-litre petrol engine and a manual transmission," says Maree.
"Safety and economy are what I'm after and I was wondering if I should buy new."
Well Maree, with the amount of travel you do I wonder whether a 1.6-litre engine is going to be enough in terms of power and overall performance.
It's a nice feeling to have something left in reserve when travelling on the open roads on a regular basis. Hill work and overtaking are best done without having to think about building up speed beforehand.
Manual transmission is not a bad option. However, automatics are by far the most popular option these days, so while you should expect to pay a little less for a manual they can also become harder to sell.
Your budget puts you within touch of a new vehicle, but be careful of purchasing a vehicle more suited to the urban environment rather than the one that best suits your current lifestyle. The budget: $25,000
The shortlist
Toyota Corolla GX
If you want to play safe then the 2011 1.8-litre Corolla hatch (six-speed manual) has to be high on the watch list. A fairly late model example travelled under 50,000 fits your budget. For those long business trips it gets the tick of approval for having Electronic Stability Control and curtain airbags. Claimed fuel consumption is 7.3l/100km.
Suzuki Swift Sport
Demonstrator examples (travelled less than 1000km) of the Sport six-speed manual are presently being advertised for just a little over your budget. It has a 1.6-litre engine so I'm contradicting myself a little in making this recommendation but with 100kW of power on-hand we can make the exception. Not as roomy as the Toyota or Mazda but identical in terms of safety features. The Sport also has street appeal, with a rear spoiler, alloy wheels plus iPod integration, cruise control, push button start and Bluetooth. Claimed fuel consumption is 6.5l/100km.
Mazda3 GLX Hatch
Safety features to match both the Toyota and Suzuki, more power from the 2-litre engine (108kW) but higher claimed fuel consumption (7.9l/100km). If you're lucky you may pick up the remainder of a new car warranty on a 2010 model. Features include a rear spoiler, MP3 player, steering wheel controls and Bluetooth. It's a solid all-rounder with a proven reliability record as well as having the practicality I suspect you are looking for.
Driven recommends
If size doesn't matter check out the Suzuki Sport _ it will definitely put some excitement
into your drive.