Brad Lord looks at one of the world's great uphill races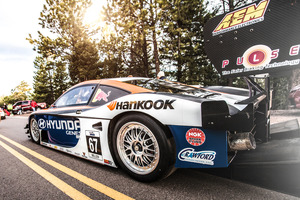 It's not called the Race to the Clouds for nothing. The view from the summit of Colorado Springs' Pikes Peak, 4300m above sea level is stunning.
It's also the finish line of the Pikes Peak International Hill Climb, North America's second-oldest motorsport event, behind the Indianapolis 500.
On Sunday local time, an international field of 157 competitors in 70 automobiles and 87 motorcycles will put it all on the line up the Pikes Peak Highway. Thirty thousand spectators are expected to cheer them on.
This year marks the 91st running of the event, but only the second year that the 19.99km 156-corner road course that begins at an elevation of 2862m has been completely sealed.
That, of course, makes the event a different beast from the one it was when the entire road had a compacted dirt surface and modified Group B rally-based machinery ruled the roost. Faster? Yes. Less challenging? Perhaps, but with a rule change now permitting use of full-slick racing tyres in the no-holds-barred "unlimited" class, comes renewed manufacturer-led interest in the race.
Spearheading that movement is French carmaker Peugeot, which has rung in nine-time world rally champion Sebastien Loeb in a bid to relive its first win on the mountain with Finnish rally legend Ari Vatanen at the wheel of the 405 T16 Pikes Peak exactly 25 years ago.
Much of the technology has changed in quarter of a century, but at its core Loeb's 2013 208 T16 Pikes Peak follows a similar engineering script to Peugeot's 1988 effort - a lightweight carbon fibre body draped over a tubular steel space-frame chassis, all-wheel-drive and an engine mounted mid-ship.
But Peugeot says that with a remarkable 1:1 power-to-weight ratio - that's 875hp (653kW) and 875kg - its wild new 3.2-litre twin turbo V6-powered creation can accelerate as quickly as a Formula 1 car.
Other drivers in the unlimited class also have their eyes on the prize. One of those is New Zealand-born Rhys Millen, son of Kiwi rally maestro Rod Millen and the race record-holder. There's little doubt that his winning time last year - 9m46.164s in a 500kW-plus Hyundai Genesis Coupe that Millen built for the production car-based Time Attack class - will fall this year, but he's come prepared.
Millen's bespoke Hyundai PM580-T has a comparable power-to-weight ratio to the Peugeot, but has a Hyundai Lambda V6-based engine that's been extensively modified and turbocharged, and a lightweight rear-wheel-drive tube-frame chassis.
No one should discount Jean-Philippe Dayraut either. In a similarly designed machine that now wears a MINI Countryman facade, the French ice racing champion came close to winning the event last year. His pace was 20 seconds quicker than Millen's, but a brake failure less than one kilometre from the summit ended his chances of glory.
And therein lies the real challenge of Pikes Peak - finishing first, first requires a finish. With only one attempt for each driver, even the smallest lapse in concentration or the slightest mechanical malfunction can be the difference between winning and losing. Then there's the weather - it can be warm and dry at the start line but the opposite at the summit.
The other major obstacle is the power-sapping altitude. At 4300m, there's a lot less oxygen in the air, which has a large effect on engine output and subsequently vehicle performance. That's not a problem for vehicles entered in the Electric class, though - where a long-running rivalry will be reignited.
New Zealand's Rod Millen and Japan's Nobuhiro "Monster" Tajima have 17 Pikes Peak wins between them, and although the highly experienced pair, both 62 years old, won't be in with a shot at the overall record in their battery-powered race craft, they'll be gunning for class supremacy.
Tajima will be hoping for better luck in his Monster Sport E-Runner, which caught fire at last year's event, and Millen will use an updated version of the Toyota TMG EV that won the category.
Live cover of the event can be viewed online at www.ppihc.com from 2am Monday July 1 NZT.