Kiwi champ Chris Amon recalls a hairy moment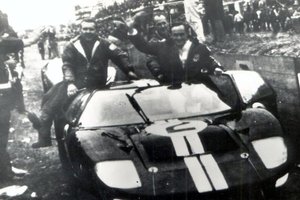 At the 90th running of the Le Mans 24-Hour, drivers will cover more than 5000km at race pace. Physical fitness, concentration and race craft all have to be aligned to reach the finish line, let alone win a class or the race outright.
It's a test of driver and machine and it's usually the machine that gives out first.
You only have to ask Chris Amon. He and Bruce McLaren are the only New Zealanders to have won the Le Mans 24-Hour - standing on the podium in 1966 after winning in a seven-litre Ford GT40.
Amon has probably the best finishing record of endurance drivers at Le Mans. Of 10 starts he made, he finished only one race - the one he won.
On the eve of this year's race, Driven spoke to the great man about his memories of the Circuit de la Sarthe and the 24-Hour.
"Le Mans was always a bit of a love-hate relationship with me," says Amon.
"You'd often think 'Oh no, Le Mans is coming up again', and not really be looking forward to it. But once I got there I changed my tune.
"It's like the Indy 500 and the Monaco Grand Prix with so much tradition and atmosphere, which I like."
The circuit had one of the longest straights of any track, at 6km, and Amon and company had to negotiate the entire 6km with the throttle flat to the floor. In 1990 the FIA said any straight over 2km was too dangerous to race, so two chicanes were introduced.
"In the long-tail MKII Ford, in 1965, I drove with Phil Hill we were hitting upwards of 380km/h on the Mulsanne Straight.
"In the year I won we were in a less aerodynamic Ford but we were still pushing about 360km/h. The long-tail version wasn't as stable as the later models but it was still pretty good. After a while you get used to that speed and it feels like you're standing still. I remember one year though, I was in a Sunbeam Alpine and flat out downhill with a tail wind it would just about touch 200km/h.
"The rest of the field would stream past on the Mulsanne as if I was at walking pace. The funny thing about that car was at the debrief with the crew after practice we were debating whether to fit a larger ashtray because it took so long to go down the straight," says Amon.
Hurling yourself around a racetrack for 24 hours raises the odds of something bad happening - it's all a matter of degree. Amon's had his share of frights at Le Mans but there was one particular instance that remains vivid.
"The scariest time I had there was in 1969. They've changed it now but in its old layout you'd be heading into the Whitehouse corner at about 240km/h and it was there, at that S-bend, I had my heart-in-the-mouth moment.
"I got a very bad start in a three-litre Ferrari when it wouldn't start. I finally got away at the back of the field and there was another driver by the name of John Woolfe in a Porsche 917 who also was slow away. He was a gentleman driver who wasn't that experienced and the thing was a rocket ship compared to my small-engined Ferrari.
"I could catch him through the tight stuff but he'd blast past on the straight, but I'd catch him again by braking about 200m after he did. As we came though the Whitehouse he lost the whole thing in front of me and I could see it was going to end badly, which it did.
"He hit one side of the bank and flew across to crash into the other side [fatally] and the car exploded with bits going everywhere. I ran over one of the fuel tanks that was on fire and I just had enough time to slow down to be able to jump out before the whole lot went up.
"As I leapt out I was almost run over by Frank Garner who had made an even worse start."
Amon didn't even make a single lap that year but that wasn't his shortest race. In 1972, Amon's co-driver started the race and the first time down Mulsanne the engine threw a rod. Amon never got to drive in that race.
"Despite only finishing one race, I have a lot of fond memories of Le Mans and some of my best racing memories," says Amon. "It's a pretty special place. I wish Brendon Hartley all the best this year."