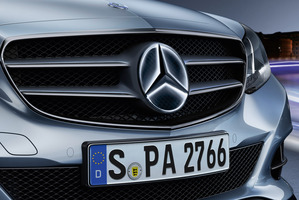 Well, it had to happen; as LEDs and fibre-optic lighting become cheaper, smaller and more flexible, the more things manufacturers see fit to illuminate on their latest models.
Now it has finally moved away from increasingly elaborate DRLs and interior lighting to ... emblems. It's self-promotingly obvious, really, and a wonder no one has done it before. But now Mercedes-Benz has.
The German company has just revealed an illuminated three-pointed star emblem that will be available as a dealer-fitted option on the new E-Class, GL-Class, M-Class and CLS-Class.
The star lights up when the car is locked and unlocked by remote control, or when the doors or boot are opened.
The perfect accessory for letting potential car thieves know exactly what car is parked in that dark corner.
Sign of the times
Boring, non-interactive signposts may well be a thing of the past. Well, one day, at least.
US-based Breakfast Products (no, not a cereal maker) has unveiled ''Points'', a system it
claims to be the most advanced signpost on earth.
Points looks like a slicker back-lit version of the traditional signpost but, instead of being static and pointing in a single direction, it uses digital data and onboard sensors to
compile relevant information to display, and the motorised signs swing around to point in the appropriate direction.
This means the signs can change at various times of the day to show relevant information, as well as be adapted for events and other one-off occurrences.
We are the world
A police chase with sirens blaring, ending with the suspect being taken down with a Taser, is not all that unusual in the Good Ol' US of A, except this time it was the suspect that was different. It was a 1.82m tall 7-year-old called Scooter. Don't be too alarmed, though, Scooter is a fully grown llama and is reportedly fine.
Train drivers in Sweden have come up with an inventive way to keep cool on hot days following a ban on them wearing shorts. They have taken to wearing skirts. Their employer was backed into a corner because ''to tell them to do something else
would be discrimination''.
Walking home after a night on the booze is better than driving, although putting a bit of thought into your route might be a good idea. A Serbian man had to be rescued after his walk home went a bit off-track and he was spotted asleep, halfway up the structure
of a 21m-high bridge ...
Cellphone telemetry
BMW has been making a bit of noise about its ''ConnectedDrive'' system. And until now we have wondered why.
That is because in these parts of the world ConnectedDrive has largely consisted of connecting to the internet via your smartphone's Bluetooth connection, which meant, well, it was usually quicker to pull your phone out and do whatever it is you wanted to do.
But exciting new concepts are starting to appear in recently launched BMWs.
The latest (in Europe and the USA, at least), and possibly most exciting, is the new ''M Power'' app. Initially only available for iOS, lucky iPhone owners will be able to record their performance (or embarrassing lack thereof) on the street or track.
The M Power app records data from in-car sensors and acts as a telemetry tool, allowing drivers to see how they did on a particular track. Along with an overlay on a map showing acceleration and braking (including head-to-head comparisons), the app can show a line graph of everything from brake and throttle inputs to g-force, fuel consumption to engine speed.
A small icon on the screen also shows steering angle, while lap times and speeds can all be stored.
The best bit, however, is the app will work on any newer BMW equipped with the BMW Apps option. Imagine the bragging rights or embarrassment in the pub.
Failure to launch
An embarrassing misfire for McLaren this week and, no, we're not talking about its abysmal F1 form. In this case the misfire was a literal one, as the $1.45 million
McLaren P1 hybrid hypercar on display refused to start.
It seems almost everyone at the exclusive Villa d'Este Concorso d'Eleganza in Italy had a video camera in their pockets, so of course there is video evidence. Like here: bit.ly/113MltF The footage shows the error messages on the dash that include ''Park Brake Fault - Call McLaren
Service Centre'' and ''ESC Fault Vehicle Limphome - Go to McLaren Service Centre''.
McLaren is remaining tight-lipped on the cause, but it couldn't have picked a worse place to happen. Villa d'Este is a hive of the mega-rich, many of whom are no-doubt prospective, and possibly current, customers.
Birthday boy
For some strange reason Mini has seen fit to congratulate Porsche on the 50th anniversary of the 911. It is ostensibly because the original Mini also happens to be 40 years old at the same time (if it was still in production), but we here at The Good Oil think it was simply an excuse to release these awesome pictures of a classic Mini and an original 911 resplendent in their respective shades of yellow posing together. Look at them. It really does make you realise how damn BIG both have become since they were born.
Number Crunching
24 CONSECUTIVE RACES Kimi Raikkonen's run of point-scoring in F1 puts him equal with Schumacher
91WINS Schumacher's race victories - Raikkonen has 20.
1566 POINTS Schumacher's career F1 points - Raikkonen has 876.
0 HOW MUCH RAIKKONEN CARES ABOUT ANY OF THIS Which is why he is awesome.