Instant fines for dangerous drivers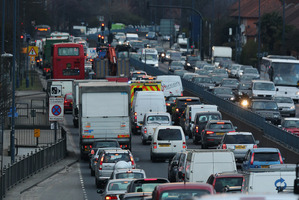 The British Government's crackdown on dangerous drivers by imposing instant fines is being dismissed by some safety campaigners as a woefully inadequate response.
Road safety minister Stephen Hammond warned that drivers who hogged the middle lane of motorways, drove while using mobile phones or tailgated other road users faced on-the-spot fines of £100 ($193) and three points on their licence.
Those who do not use seat belts - credited with saving 50,000 lives since they were introduced in Britain in 1983 - also face increased fines.
The charity Brake, which cares for families bereaved in road accidents, has sought to persuade the Government that the minimum fine for such offences should be £500 to £1000 - putting them on a par with penalties for littering or smoking in public.
The charity's chief executive, Julie Townsend, says the proposals do not go far enough.
"It's crucial we encourage greater respect for laws on our roads, which are in place to protect people's lives, and higher fines can help achieve this," she said.
"A £100 fine is not enough to pose a strong deterrent to life-threatening behaviour, like using a mobile at the wheel."
Phoning or texting while driving increases the risk of a crash by up to 400 per cent.
Hammond says the new scale will make it easier for police to tackle problem drivers without having to take them to court.
Yet groups immediately questioned whether this would mean more traffic officers on British roads.
Dave Shenton, the head of field operations for the Institute of Advanced Motorists and a former traffic officer, says that without more motorway patrols there could be little hope of enforcement.
He says too many motorists still harbour basic misunderstandings such as that the three lanes on a British motorway are for slow, medium and fast drivers.
"From my experience a lot of the problems we see are a result of ignorance of behalf of the driver. All three lanes have the same speed limit of 70mph (112km/h)," he says.
Motorway driving is not part of the British driving test and the Royal Society for the Prevention of Accidents - which took part in the consultation process with the Department for Transport - says it supports use of remedial training, rather than the imposition of fines to change driver behaviour.
Traffic psychologist Dr Charles Johnson, technical director of CAS, says previous major cultural shifts in the 1970s and 80s, such as the reduction in drink driving and the change in seat belt laws, had been the result of a general public acceptance of the risks posed and hard-hitting public information programmes.
But ministers had yet to make the same compelling, straightforward arguments on matters such as using a mobile phone while driving.
"All the emphasis has been on hand-held phones but the research evidence suggests it doesn't matter whether it is hand-held or hands-free. Any sort of phone call is distracting and has equal consequences,.'
Enforcement remained vital.
"If you are going to use penalty fines as the method for improving behaviour it has to be seen to have an impact," he said.
"You have to believe you are likely to get caught."
-Independent