An old-school coupe with the emphasis on driver entertainment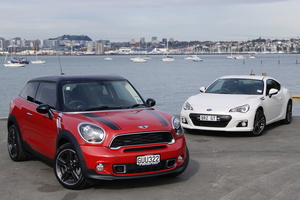 Let's talk sports cars. The Subaru BRZ GT is the real thing: quite literally, as Subaru has more of a claim to engineering ownership of the BRZ/86 project than its Toyota partner.
True, the car (singular, because they are the same vehicle bar some minor details) probably wouldn't exist without Toyota's product-planning expertise and funding, but it's based on a Subaru platform, powered by a Subaru boxer engine (albeit with a Toyota fuel-injection system) and even built by Subaru.
Regardless of which brand you choose, you cannot argue with the execution: this is an old-school coupe with the emphasis on driver entertainment and it is simply brilliant.
The BRZ is an amazing car and a rare breed. As a keen driver, where else could you possibly go for such guilty pleasure at the price?
Maybe you could look at the Mini Paceman.
Bear with me, now. Like or loathe Mini's obsession with presenting itself as fashion-forward, but at the core of the brand is the desire to enthrall the driver. Sure, they're unashamedly cars for show-offs, but every Mini is built on a chassis that's exquisitely engineered and incredibly entertaining. That's what has sustained the reborn brand for over a decade now - fashion can be fickle, but a good drive never goes out of style.
So here we go: old-school rear-drive meets new-wave front-drive. But both the BRZ GT and Paceman Cooper S are overtly sporting models from brands known for their dynamic prowess. They're remarkably close in many ways: it's easy to make fun of the "giant Mini" Paceman because it's so much larger than the standard hatchback but, in fact, it's still 130mm shorter than the BRZ - although it does tower over the low-slung Subaru by 270mm.
The Mini's 1.6-litre turbo engine has a little less power than the Subaru's naturally aspirated powerplant, but a bit more torque: 135kW/240Nm versus 147kW/205Nm. The cars weigh around the same (within 40kg) and both have six-speed manual gearboxes as standard, with automatic an option.
Both get to 100km/h in the same time: 7.5 seconds for the Paceman and 7.6 seconds for the BRZ. So they're not really fast, but then straight-line speed is not what these cars are all about. They are designed to come alive in the curves.
They're also in the same bracket price-wise: the BRZ GT lists at $48,990, while the Paceman Cooper S is a little more expensive at $53,990.
So these two are closer on paper than it might first appear. What about on the road?
The BRZ is built around pure driving pleasure: no compromise. The steering is sublime, the chassis balance beautiful, the whole package impossible to fault for sheer finesse.
For the record, Subaru has tuned the BRZ suspension to be slightly more aggressive than the Toyota 86.
The Paceman isn't up to that standard (few cars are). Front-drive cars can be pulled as well as pushed and Mini has made a virtue of this configuration in most of its models.
The Paceman is still sporty by small-car standards, but it's no match for the elegant BRZ in corners and it's also a step down from the smaller Mini hatchback. The extra bulk and height of Paceman means it's less adept at quick changes of direction than a standard Mini. There's also more tendency towards understeer and wheelspin, as body roll lifts the inside-front axle in tight corners.
So the result is much as you'd expect: the BRZ is leagues ahead in enthusiast appeal and if you want a pure driving experience you should look no further.
But there is a coda: the BRZ can be a tiring car to drive when you're not on a weekend blast, with a busy chassis and a boxer engine that needs to be worked hard to extract
lively performance. Yes, you could drive one every day but in an ideal world you'd probably have another car for the weekday commute.
The Paceman delivers 75 per cent of the entertainment factor of the BRZ (granted, that extra 25 per cent is where the magic lies) and is infinitely more practical: its engine
offers effortless mid-range performance compared with the Subaru, it has good visibility,
spacious seating for four adults and a big boot.
So let's celebrate a pure sporting ethos in the BRZ, but acknowledge that a little compromise is not necessarily a bad thing in Paceman.
THE BOTTOM LINE
BRZ remains the drivers' dream, Paceman combines sporty character with pleasing practicality.