Alfa Romeo's Disco Volante styling a show head-turner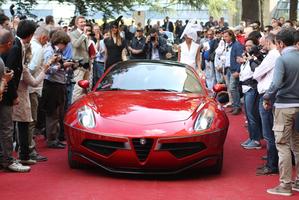 Alfa Romeo seems to have the hearts of the public at the highly respected Concorso d'Eleganza Villa d'Este.
The Touring-designed and built Disco Volante was voted best concept car by attendees at the swanky event. Its stunning shape - which has earned the car the nickname "Flying Saucer" - pays homage to the Alfa Romeo 1900 C52 - which was designed by Carrozzeria Touring 60 years ago.
For its time, the original flying saucer was a groundbreaking combination of light weight and aerodynamic efficiency.
The new concept takes a slightly different approach, and is based on the beautiful 8C Competizione, sharing both chassis and engine, and Touring has employed lightweight materials like carbon fibre and aluminium to revisit the original in a thoroughly modern way.
The car, which is only made to order, is number 01 - two more will be completely shortly, with an undisclosed price tag.
There are more than 4000 hours of work in each car's creation.
Under its unique body is the 8C Competizione's fiery 4.7 litre V8, making 350kW and 480Nm of torque - enough to throw the Disco to the Kiwi legal limit in 4.8 seconds, and give its monied and motivated Italian owners a 289km/h thrill on the autostrada, conditions and constabulary allowing.
The engine is mid-front mounted, pushing power through a transaxle six-speed gearbox and limited slip diff to the rear wheels, with a 49/51 weight split from front to rear. The double wishbone suspension features forged aluminium uprights and supports.
The concourse honours marked the second year of success for Alfa Romeo, with the prestigious Design Award for Concept Cars & Prototypes bestowed on the Alfa Romeo 4C, the compact supercar bred from the company's learning with both the Alfa Romeo 8C Competizione and the 8C Spider.