The name may fade Downunder but its glory days will live on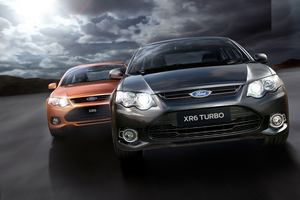 Funny how quickly we've all started talking about Falcon in the past tense. That's understandable, given that Ford has announced its Australian assembly operations will finish in October 2016 and the Falcon name will be retired.
One inconvenient truth is that there's still nearly three-and-a-half years to go, including a major facelift next year. Another is that while it's easy to think of Falcon as the ultimate loser and Commodore the winner in the classic Ford-versus-Holden battle that has raged in Australasia for decades, the reality is they'll cross the finish line at the same time.
True, Falcon will bow out - but so will the just-launched VF Commodore. That will be the end of the all-Australian car, probably for good.
Holden has secured funding to carry on with Australian manufacture (including a next-generation Commodore on a global platform) until 2022, but beyond that its future is uncertain without more government money.
So let's not think of Falcon as a loser. Not even in a sales sense. The large-car market has declined as aggressively in New Zealand as anywhere, and our appetite for Falcon and Commodore with it. A decade ago, for example, Falcon sold 6580 units here and Commodore 7243. In 2012, the numbers were 1170 and 2439 respectively.
That's due to changing buyer tastes, for sure. But also a more heavily populated and fragmented overall market.
Commodore's 2012 total might have been a third of what it sold a decade ago, but it was still good enough for fourth spot overall in the passenger-car sales charts. If you counted Territory together with Falcon (they are on the same platform) then the Blue Oval's large car range would have come out slightly ahead of Holden's last year.
Not sure which is the winner there: Ford for fracturing its Falcon range into SUV territory to try to keep the public engaged with large cars, or Holden for selling just as many Commodores without worrying too much about that emerging fashion.
That battle with Holden has been the Aussie Falcon's reason for being since the launch of the first-generation model in 1960. Back then, the XK was merely an Australianised version of an American car, although not tough enough for the colonies. Within two years it was hastily re-engineered.
All Falcons were reworked versions of Ford parent-company models until the 1972 XA, which was the first all-Australian Falcon. That was also the first model to enter New Zealand production, being built at Wiri from 1973.
The Falcon survived two oil shocks in the 1970s (XA production was reduced at Wiri in 1974, though) and even lived through the threat of downsizing, in the form of the radical
1978 Holden Commodore. The 1979 XD was worryingly large and hardly high-tech (there was a lot of XC underneath) but still succeeded, thanks partly to a marketing focus on
an alloy-head engine and impressive fuel economy.
The 1980s were a difficult decade. Ford abandoned V8 engines and Holden celebrated. There were severe quality issues with the EA Falcon of 1988. All roads led to the
hugely controversial AU (or ''hey you'') Falcon of 1998, which was an attempt by Ford Australia to interpret Ford's avant garde ''edge'' styling philosophy on to an Aussie sedan.
The BA of 2002 was a brilliant car and won critical acclaim. But in New Zealand, it never managed to beat Commodore in the sales charts. When Holden's VE was launched in
2006 actually the first all-Australian Commodore, since every model before was loosely based on German product the gap grew wider (notwithstanding that Ford anticipated the move to SUVs with the Territory in 2004).
Last year's 2-litre EcoBoost the first four-cylinder Falcon was another brilliant incarnation, but the revolution never happened. It sold a dismal 70 units in NZ last year. Ford and Holden have always thrived on the image (if not sales) of big, brawny V8 models. The Falcon GT, first introduced in 1967 and continued through five generations until 1972, is surely the most famous Aussie muscle car model line of all.
In modern times, the battle between the two has been as much about the marketing power of their high-performance sub-brands as it has been about the get-up-and-go of
the cars themselves.
No question that Holden struck gold with its HSV brand, launched in 1987. People just wanted one. For a long time, Ford struggled to match it. From Tickford, which engineered performance Falcons like the XR6 and XR8, came the Ford Tickford Experience (FTE) in 1999 complete with its own dealer network. But that didn't quite gel and
when Prodrive took over Tickford in 2002 the rather more catchy Ford Performance Vehicles (FPV) brand was born.
FPV produced some epic high-performance cars, but their sales were not strong enough to secure a future for FPV as an independent operator. Last year Ford Australia took the operation in-house. It's ironic that the first- Australian Falcon almost failed because it was not localised enough, while the demise of the latest can be partly attributed to being too parochial.
Even without the crippling effects of the high cost of manufacture in Australia four times that of Ford in Asia Falcon would have struggled for survival because there is no room
under the global One Ford programme for regional models.

Ford Australia never quite managed to exploit Falcon's export potential, either. Plans to engineer the Falcon for left-hand drive were dropped in 2007. From that point onwards, there was no future for Falcon as a global car. As it turns out, no future at all.
What does all this mean for Ford New Zealand? It hasn't built a Falcon for 20 years and NZ hasn't had a car assembly industry of any kind since 1998.
With all due respect to those in Australia who will be deeply affected by Falcon's demise, in NZ the issue is more about product than people.
Falcon/Territory have been in decline but they will still leave a hole to fill.
Both Ford Australia and Ford New Zealand have announced a 30 per cent increase in the number of vehicles they will offer by 2016.
While the Falcon name will go for good, Territory may not: the American-market Ford Explorer SUV has already been spotted testing in Australia and it's possible that vehicle may be sold here as a Territory: a token link to Ford Australia's glory days.
Three years to go: will Falcon burn out or fade away? It could go either way, something tacitly acknowledged by Ford New Zealand communications manager Tom Clancy: ''There is that element [of the car being on borrowed time], but don't forget that Ford will continue to offer support for Falcon owners way beyond 2016.
''There is another side we're starting to hear about though, of people wanting one of the last ones because they know the car is coming to an end.''

Brand eyes bright future By Matt Greenop
The Falcon badge may be headed for history but Ford New Zealand boss Neale Hill still sees a bright future for the blue oval brand.
In recent years Falcon has accounted for just a few per cent of local Ford sales. Mondeo, Focus and Fiesta, and the ever-growing crossover selection are where buyers are putting their money.
The company has rejigged its global approach in recent years, and aims to create global models rather than localised vehicles like the Falcon.
''There was a time when one in every four new cars sold was out of the large car segment and Ford had a very large share of that. Falcon is a huge cornerstone of Ford New Zealand's history and, importantly, of our dealers' history,'' says Hill.
''Regretfully buying patterns have shifted, migrating away from big cars for lifestyle reasons and people are looking for smaller alternatives.
''We've continued to look very carefully at what our customers want and have been adjusting our vehicle line-up to suit.
''Ford is not going out of business in Australia and New Zealand we're continuing to evolve and we'll continue to grow our product offering,'' he said.
''Personally, I'm very excited about our future here.''