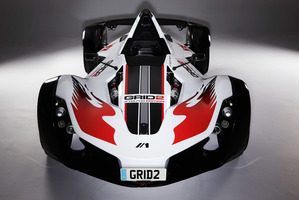 Last week The Good Oil found the ultimate video game driving simulator in the form of the $189,000 full-size replica F1 car complete with three monitors and surround sound - this week we go one step further, with the ultimate limited-edition version of a racing game.
Codemasters' latest racing game, GRID 2, is available in the usual range of formats. It is not unusual for video-game companies to offer "Collector's Editions" with extra content and perhaps a key ring or a model - but Codemasters have gone several steps beyond this by offering the GRID 2: Mono Edition, that comes complete with a PlayStation 3, a GRID 2 branded Bell racing helmet, a race suit, boots and gloves, and a tour of the Briggs Automotive Company, maker of the insane single-seater BAC Mono.
Oh, and a car.
That's right: a car. The GRID 2: Mono Edition also includes a BAC Mono - the 270km/h single-seater track-day wonder that has proven itself rather popular over in Europe.
So popular, in fact, that there is a 14-month waiting list for it. Except that the lucky buyer of the sole GRID 2: Mono Edition game will take delivery of their custom-built car in just six months.
The single copy of GRID 2: Mono Edition being offered (and no doubt already sold) has set a Guinness World Record for being the most expensive commercially available video game. How much, you ask? A staggering £125,000 ($234,000).
That's a lot of money, but it does kind of make the F1 replica simulator look a bit sick by comparison.

Mercedes code to the rescue
Even if you have no idea what a QR code is, you have more than likely seen one before, because like an unsightly black-and-white rash they are popping up everywhere. The little black-and-white squares of seemingly random patterns can be read by any smartphone or tablet with a camera, and are usually used to direct you to a website in order to sell you something. But Mercedes-Benz have done the seemingly impossible and found a helpful use for QR codes.
From this year on, all new Mercedes cars will be sold with two QR code stickers attached that, when scanned with a smartphone, will identify the vehicle and lead the user to a website with a specific ''rescue sheet'' for that car.
Rescue sheets were developed by the ADAC, the German Automobile Association, and are
already provided by all car manufacturers for every one of their models. The sheets show
firefighters, police and ambulance staff the design details they need to know in order to use the rescue shears effectively, for example.
The rescue sheet, specific for each vehicle type, also informs about the location of the airbags, the battery, the tanks, electric cables, high-pressure cylinders and, in the case of hybrids, the location of the additional batteries and high-voltage cables.
In a move that could be considered rather unusual in the world of car manufacture, Mercedes has waived the right to a patent for the system in order to make it freely
available to everyone.

Naughty Lewis: It's not my fault
As any follower of Formula One will tell you, nothing ever seems to be Lewis Hamilton's fault. That lack of blame has been taken to new heights with a recent ''prank''.
Hamilton and Mercedes teammate Nico Rosberg were jetskiing at Monaco when Hamilton decided to splash a group of Sky TV cameramen, resulting in US$120,000 of damage
to equipment.
But in The F1 Times, Mercedes cleared the issue: ''One photographer who failed to protect his camera equipment got some water inside it. But not specifically from something Lewis did.''
Silly photographer, it was your fault. But the team is helping with the freelancer's costs.

VW guards against dumb drivers
Volkswagen recently issued a ''service action'' on more than 250,000 diesel Jettas and Golfs in North America.
But there is nothing actually wrong with the cars it's the drivers who are the problem.
In a true ''Only in America'' situation, VW has been having significant problems with less-than-astute North American customers who knowingly buy a diesel-powered
car and then promptly forget that fact and fill it with petrol.
The problem first surfaced in 2011 after the National Highway Traffic Safety Administration (NHTSA) started an investigation after it was inundated with complaints from owners of VW diesels of engines stalling at highway speeds.
The investigation found the problem was fuel pump failure due to ''large amounts of gasoline''.
Rather than the owners doing this being told that they are simply too stupid to be allowed to continue driving, the 250,000 cars will get a new misfuelling guard and fuel filler neck cap to prevent the cars from being filled with petrol. The service action applies to vehicles made between 2009 and 2010.

We are the world

*In an effort to promote a ''more relaxed'' relationship between children and police, the Valley Falls police department in Kansas, US, allowed civilian volunteers to go on
patrol in police cruisers. By themselves. Unsurprisingly, the programme was canned following numerous reports of police cars racing, doing burnouts and other such irresponsible behaviour ...
*The Land Rover Defender hasn't evolved for so long that a small cottage industry has sprung up in the US importing late-model Defenders into the country (where the new car can no longer be sold because it does not meet current US safety regulations) and replacing their VINs with those from 25-year-old models, allowing the new cars to
meet import restrictions as ''classic'' vehicles.
*An unidentified man in Madison, Wisconsin, has created a stir by riding around town on a scooter wearing nothing but a pair of shoes, a thong and a cape. Not even a helmet or sunscreen. Police say he is doing nothing illegal and a Facebook group dedicated to him
has attracted thousands of ''likes''. View the page here

Number Crunching
1.9 BILLION The amount in US$ that the Fast and Furious franchise
has made since 2001.
569 MILLION The amount in US$ that the six movies have cost.
50 PER CENT The average score given to the six films by critics.
6 FILMS But a seventh Fast and Furious has just been announced.